We offer a wide variety of multi-function copiers allowing you to print, scan, fax or copy with pricing to fit any office budget. We sell, lease or rent new or used copier, printer, fax and scan equipment that we personally recondition in our Minneapolis/St. Paul based facilities.
Our reconditioning team takes pride in their work and release machines only after they have been inspected, repaired and tested to meet our very high quality standards.  All our remanufactured equipment is backed by our 5 year or 1,000,000 copy (whichever comes first) from date of purchase "No Lemon Guarantee"
Please contact us so we can discuss your goals and needs when it comes to your copier, printer, fax or scan needs.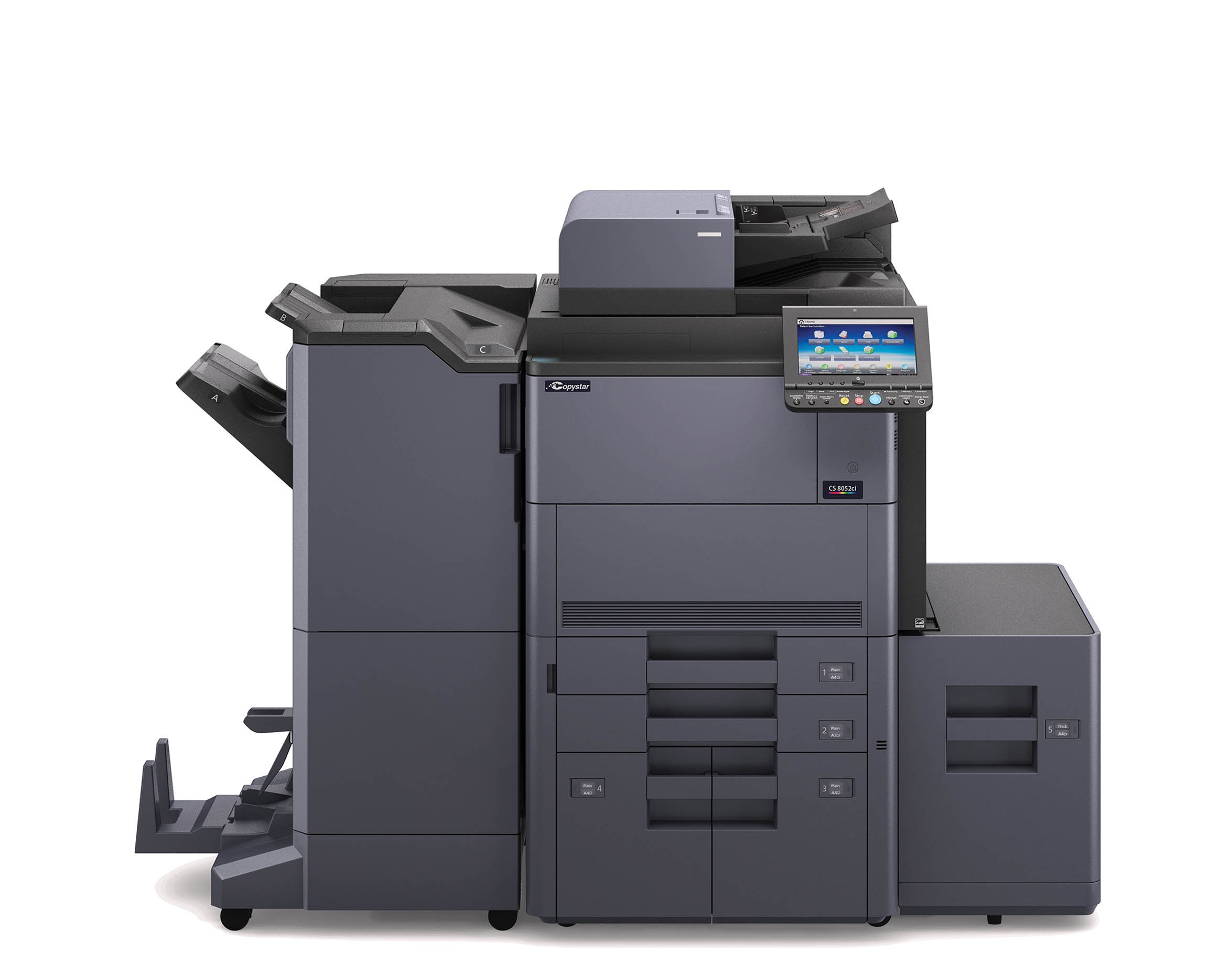 CS 8052/7052/6052/5052/5042ci
Specifications
Standard Network Print, Scan, Copy & Optional Fax
Maximum Output Size – 12″ x 18″ (Trays) / 12″ x 48″ (MPT)
Print Speed – up to 80/70 pages per minute
Memory – 4GB/4.5GB RAM
Hard Drive – 320GB 
Std. / Max Paper Capacity 4,150/7,650
Resolution 600 x 600 dpi 1200 x 1200 dpi
Document Feeder Opt. 140-sheet RADF/270-sheet DSDP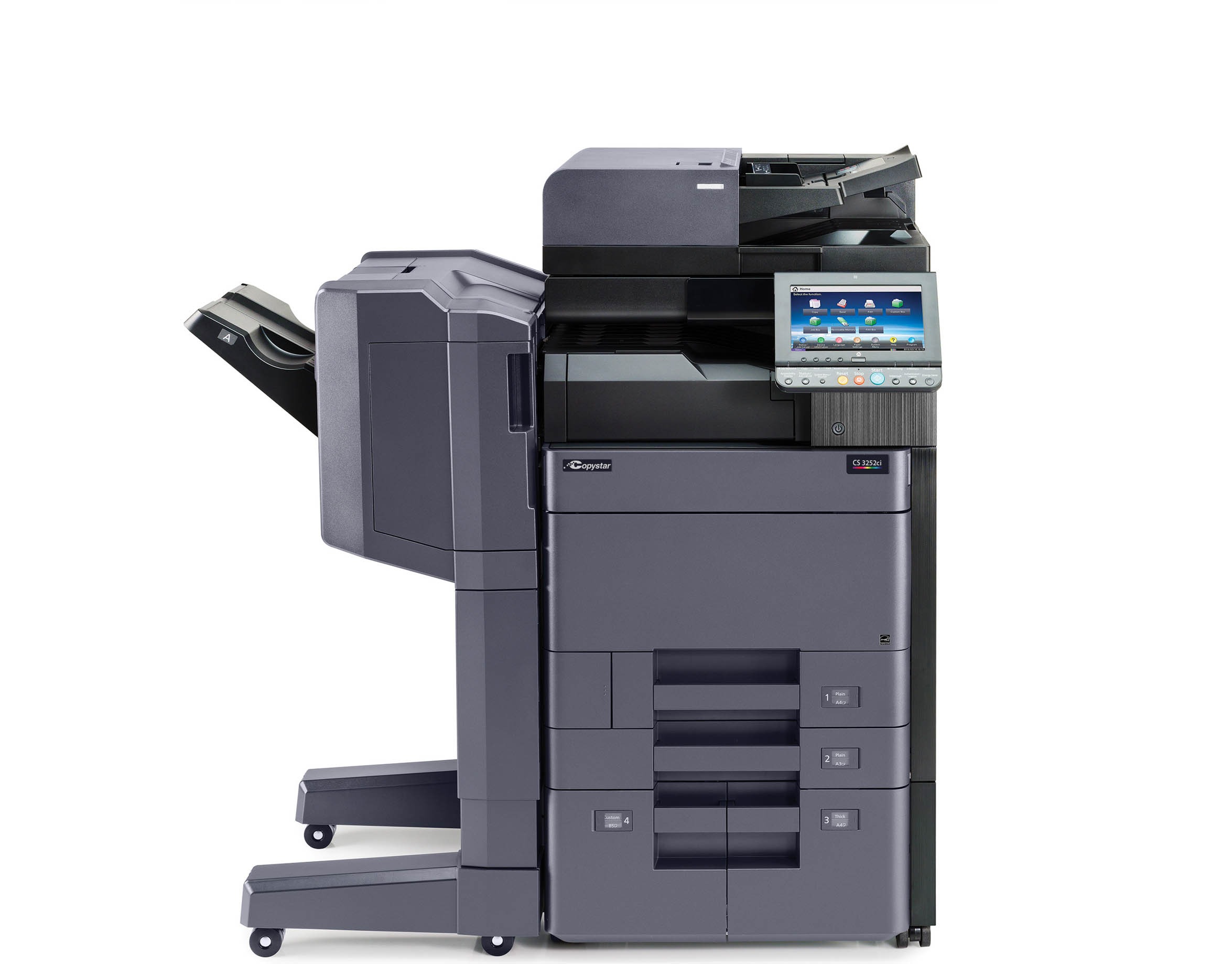 Specifications
Standard Network Print, Scan, Copy & Optional Fax
Maximum Output Size – 12″ x 18″ (Trays) / 12″ x 48″ (MPT)
Print Speed – 35/35 pages per minute
Memory – 4GB RAM
Hard Drive – 320GB 
Std. / Max Paper Capacity 1,150 / 7,650
Resolution 600 x 600 dpi 1200 x 1200 dpi
Document Feeder Opt. 140-sheet RADF/270-sheet DSDP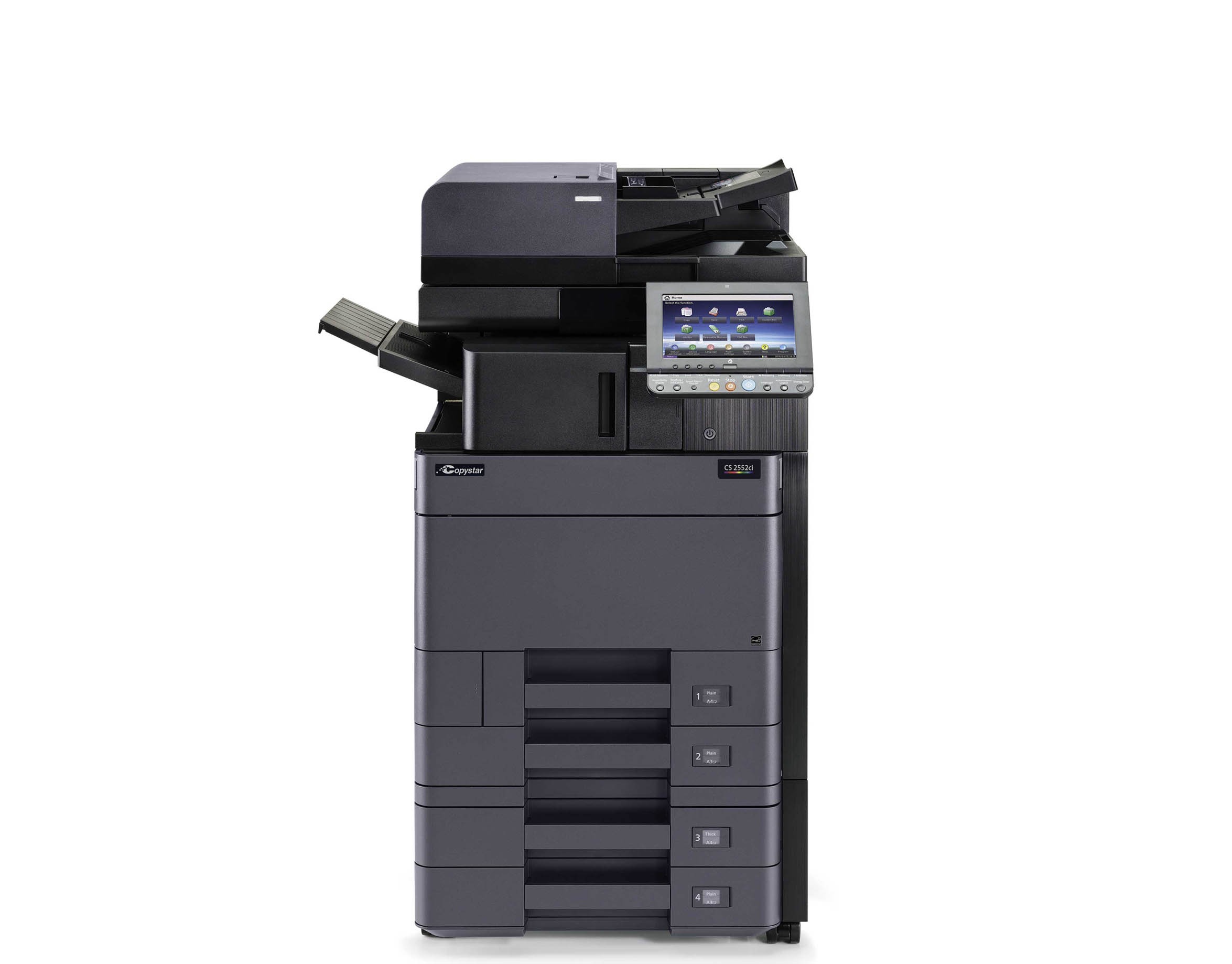 Specifications
Standard Network Print, Scan, Copy & Optional Fax
Maximum Output Size – 12″ x 18″ (Trays) / 12″ x 48″ (MPT)
Print Speed – 32/32|25/25 pages per minute
Memory – 4GB RAM
Hard Drive – 320GB 
Std. / Max Paper Capacity 1,150 / 7,650
Resolution 600 x 600 dpi 1200 x 1200 dpi
Document Feeder Opt. 50/140-sheet RADF/270-sheet DSDP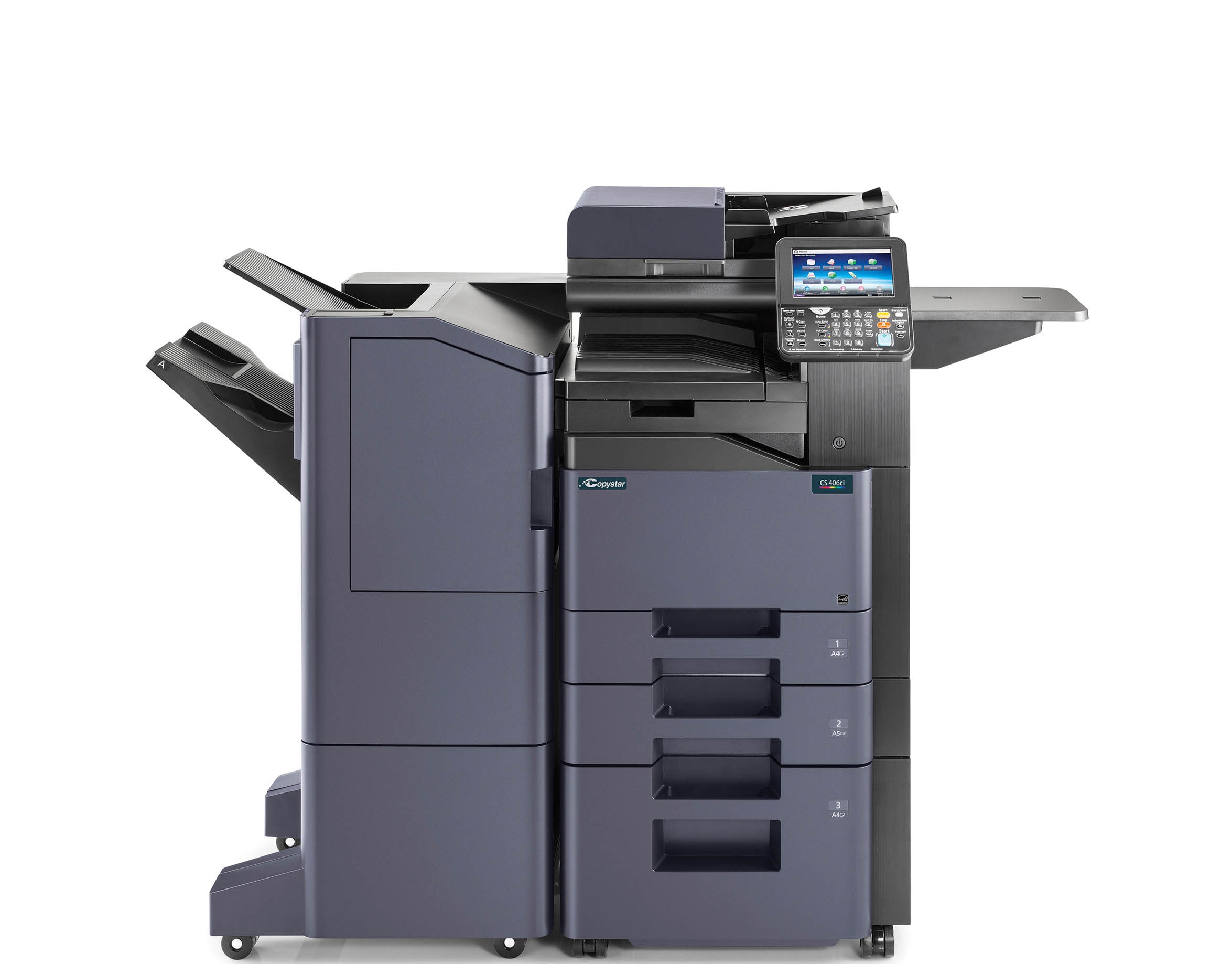 Specifications
Standard Network Print, Scan, Copy & Optional Fax
Maximum Output Size – 12″ x 18″ (Trays) / 12″ x 48″ (MPT)
Print Speed – up to 42/42 pages per minute
Memory – 2GB RAM
Hard Drive – 320GB 
Std. / Max Paper Capacity 600/3,100
Resolution 600 x 600 dpi 1200 x 1200 dpi
Document Feeder Opt. 75-sheet RADF/75-sheet DSD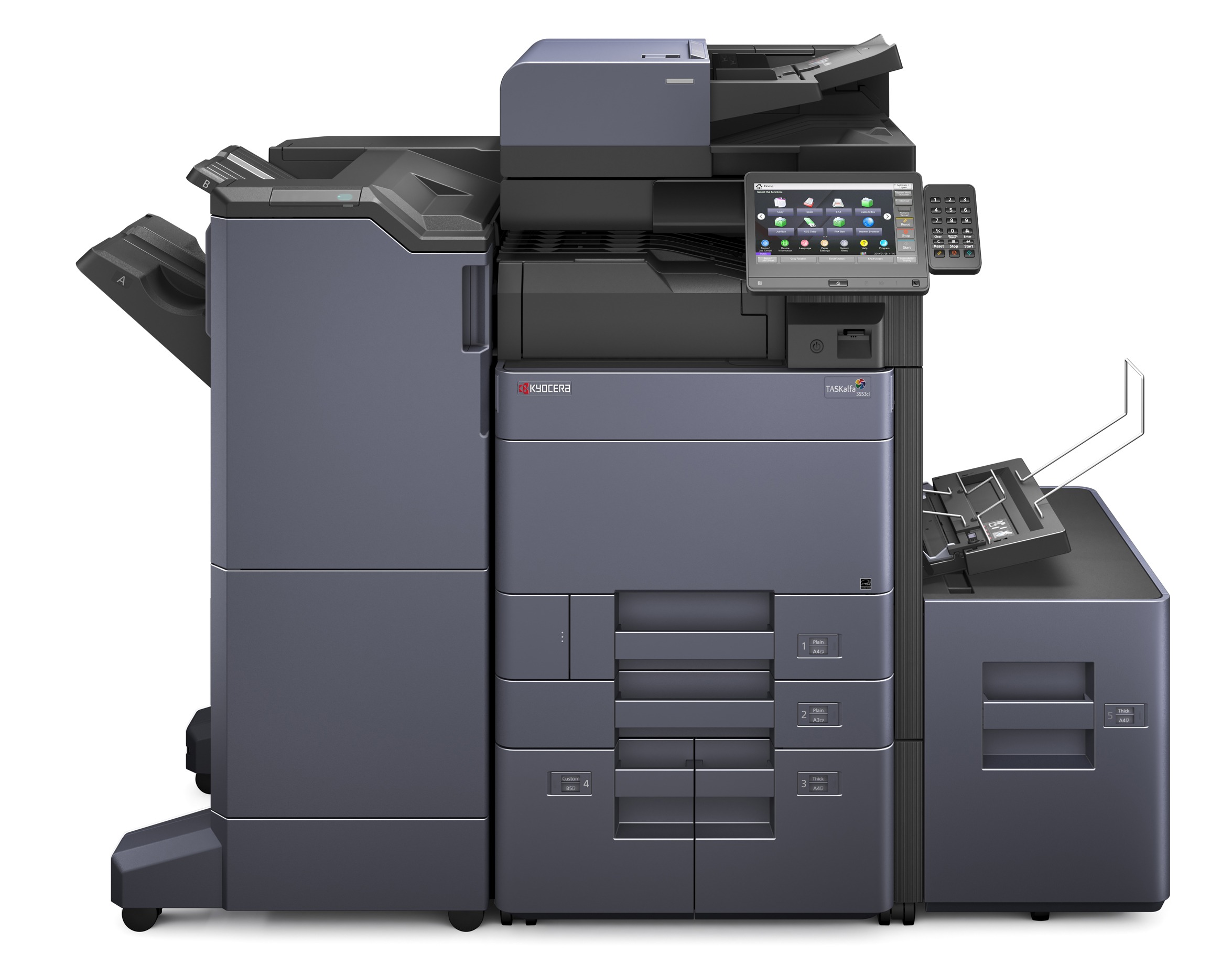 Specifications
40/20 ppm B&W, 40/20 ppm Color
Print/Scan/Copy/Fax
1200 x 1200 dpi
Standard: 1000 Sheets
Maximum: 7,150 Sheets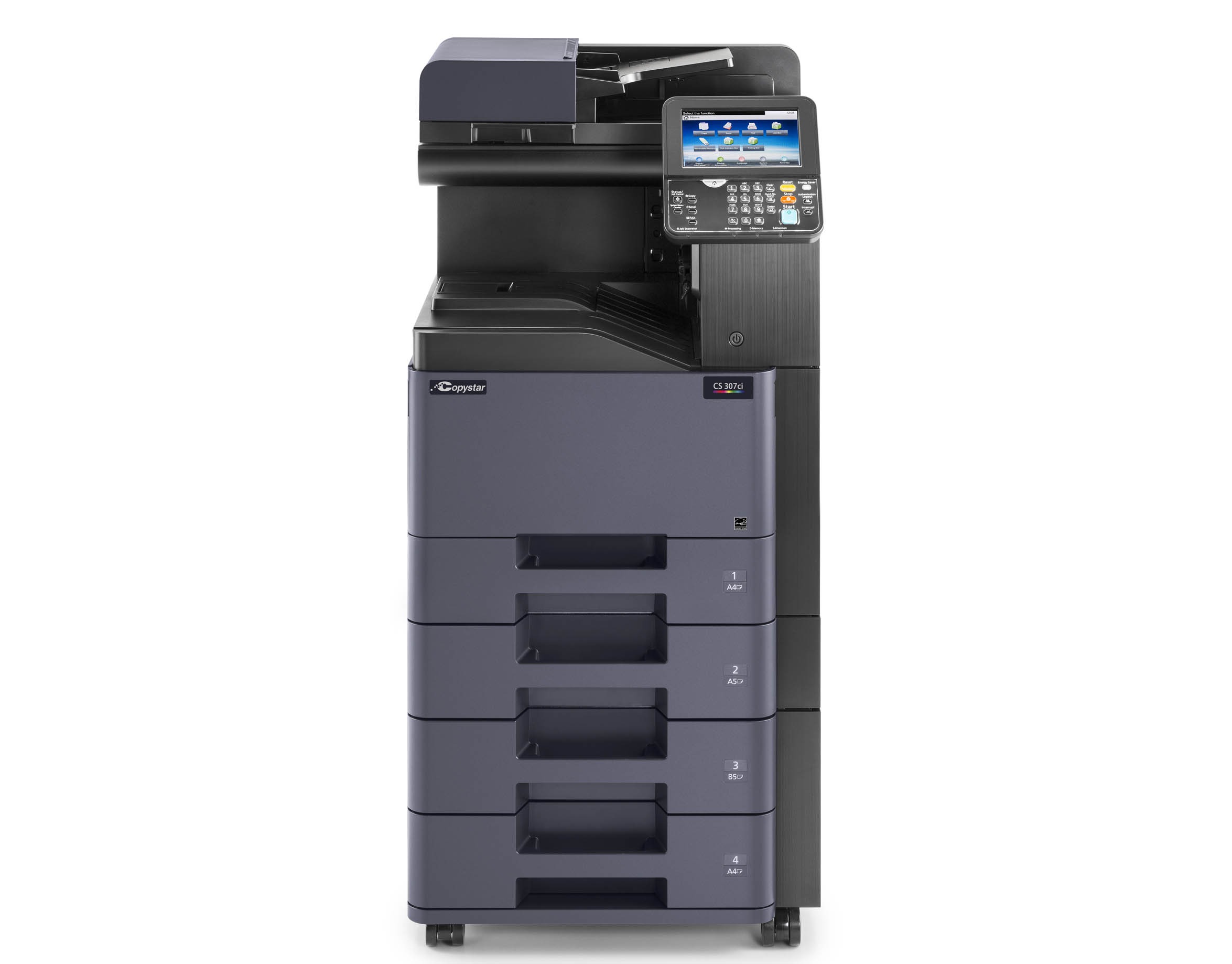 Specifications
Standard Network Print, Scan, Copy & Optional Fax
Maximum Output Size – 12″ x 18″ (Trays) / 12″ x 48″ (MPT)
Print Speed – up to 32/32 pages per minute
Memory – 1GB/2GB RAM
Hard Drive – Optional (SSD) 
Std. / Max Paper Capacity 600/3,100
Resolution 600 x 600 dpi 1200 x 1200 dpi
Document Feeder Opt. 75-sheet RADF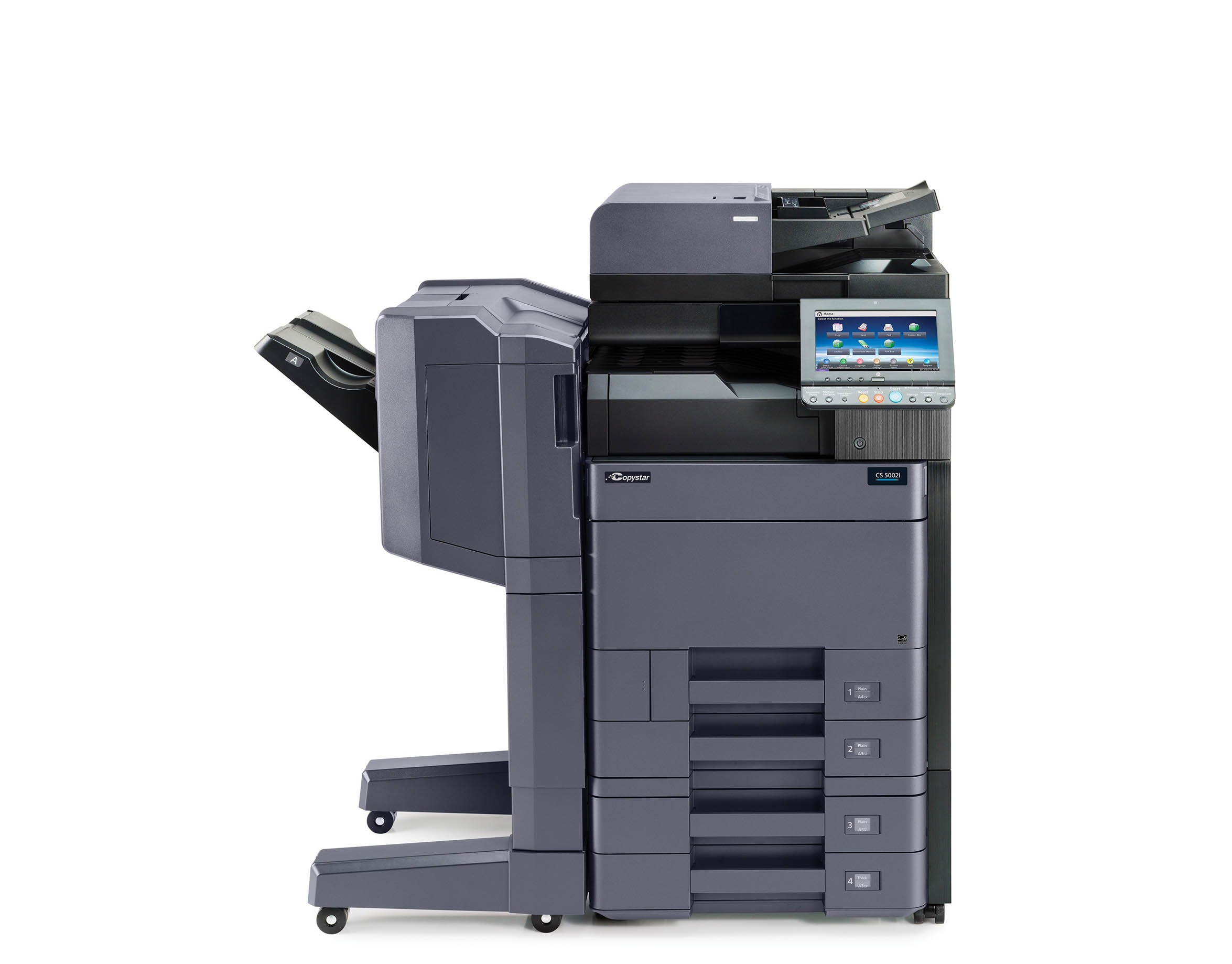 Specifications
Standard Network Print, Scan, Copy & Optional Fax
Maximum Output Size – 12″ x 18″ (Trays) / 12″ x 48″ (MPT)
Print Speed – up to 50 pages per minute
Memory – 4GB RAM
Hard Drive – 320GB 
Std. / Max Paper Capacity 1,150/7,150
Resolution 600 x 600 dpi 1200 x 1200 dpi
Document Feeder Opt. 140-sheet RADF/270-sheet DSDP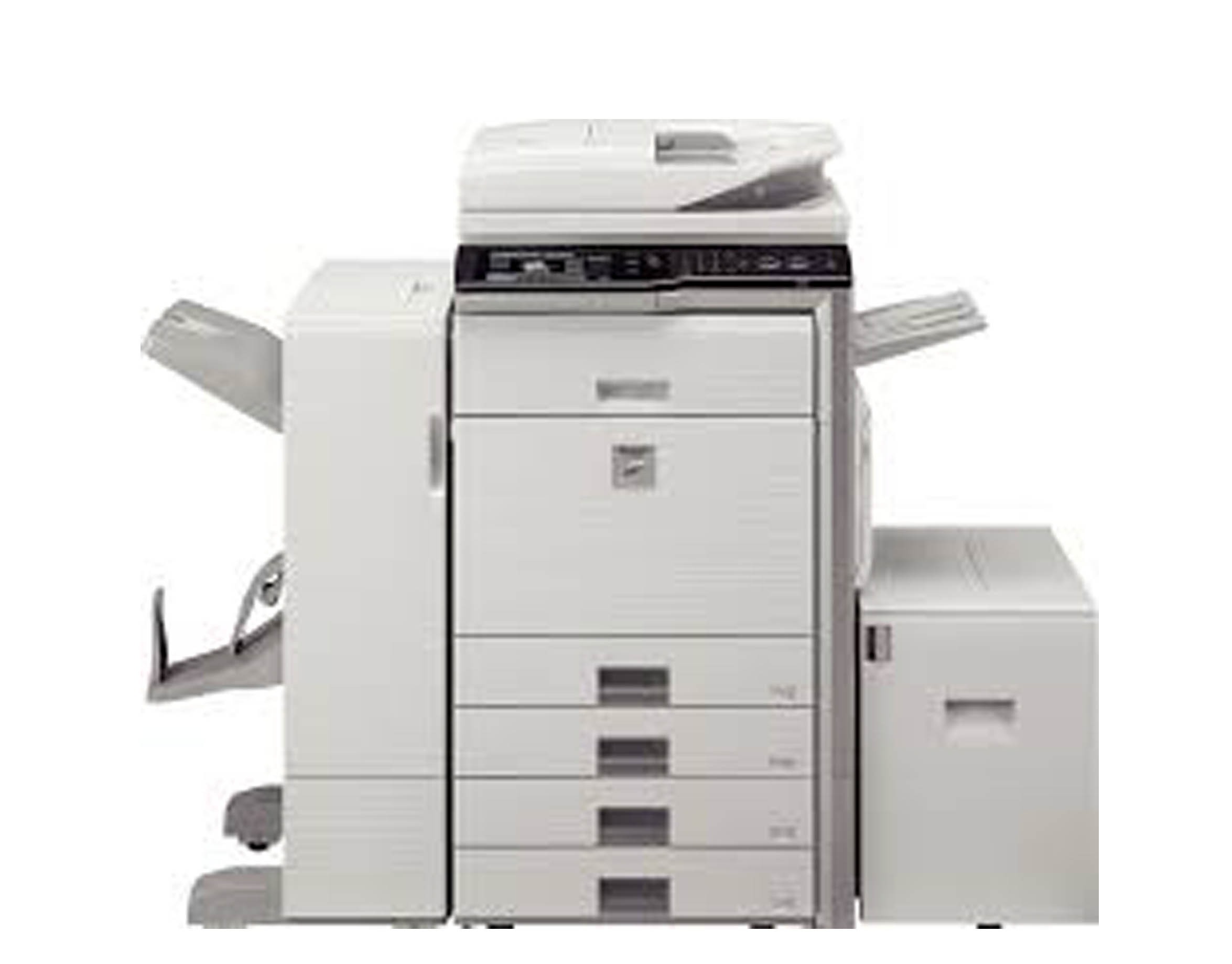 Specifications
Standard Network Print, Scan, Copy & Optional Fax
Maximum Output Size – 12″ x 18″ (Trays) / 12″ x 48″ (MPT)
Print Speed – up to 41/50 pages per minute
Memory – 512MB/1GB RAM
Hard Drive – 80GB 
Std. / Max Paper Capacity 1,000/3,500
Resolution 600 x 600 dpi 1200 x 1200 dpi
Document Feeder Opt. 100-sheet RSPF/150-sheet DSPF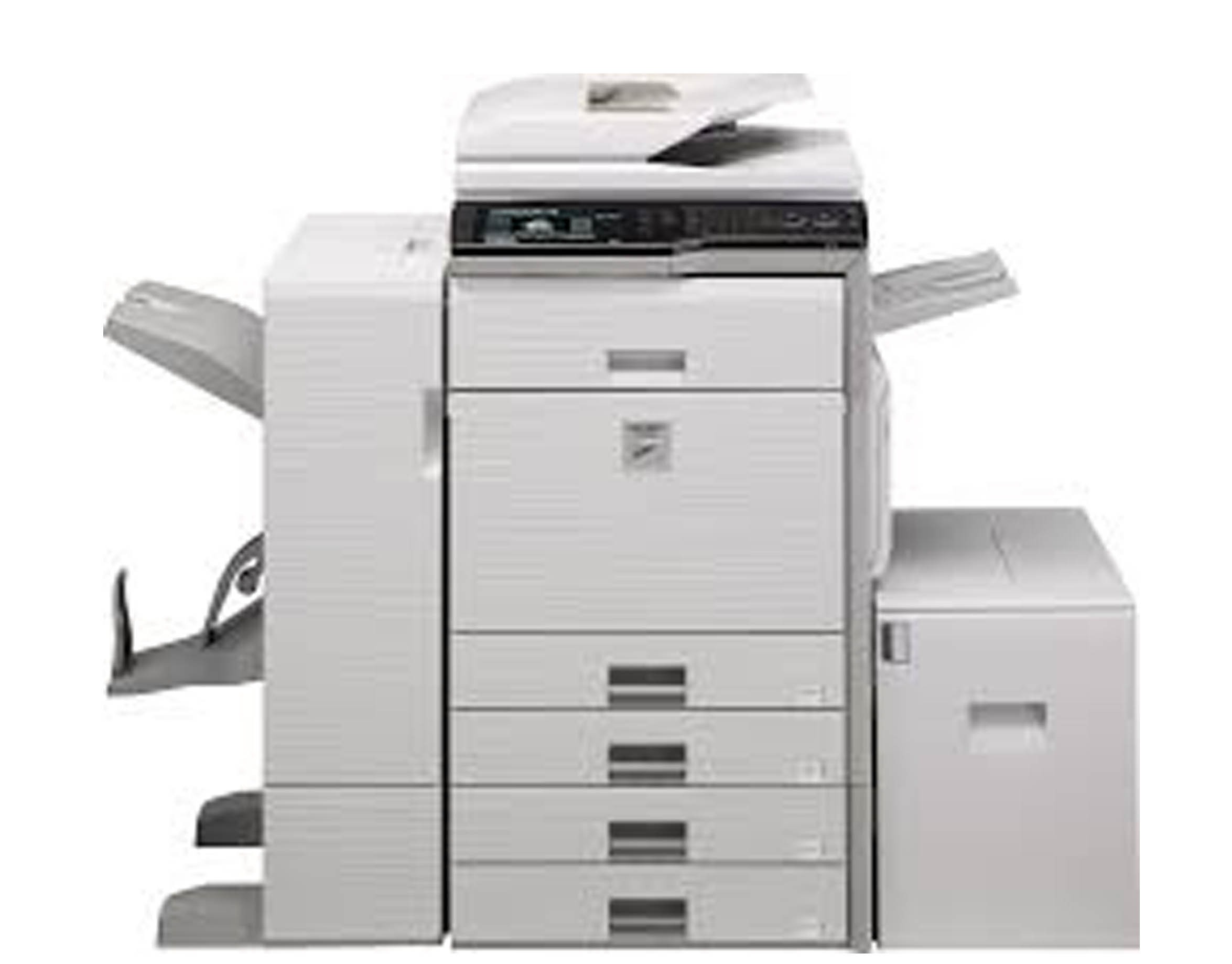 Specifications
Standard Network Print, Scan, Copy & Optional Fax
Maximum Output Size – 12″ x 18″ (Trays) / 12″ x 48″ (MPT)
Print Speed – up to 31 pages per minute
Memory – 1.5GB RAM
Hard Drive – 80GB 
Std. / Max Paper Capacity 1,100/5,600
Resolution 600 x 600 dpi 1200 x 1200 dpi
Document Feeder 100-sheet RADF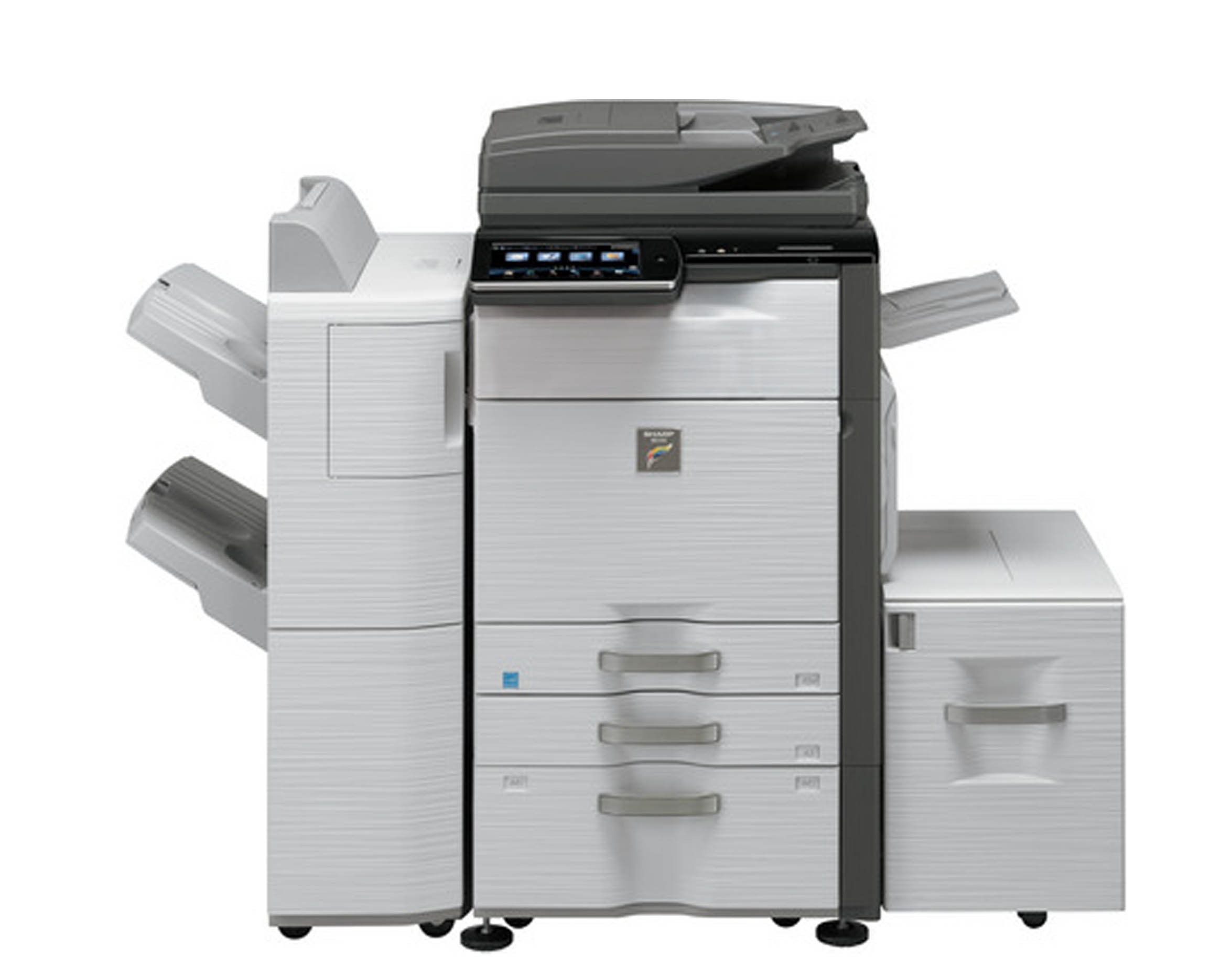 MX-4140N/4141N/5140N/5141N
Specifications
Standard Network Print, Scan, Copy & Optional Fax
Maximum Output Size – 12″ x 18″ (Trays) / 12″ x 48″ (MPT)
Print Speed – up to 41/51 pages per minute
Memory – 4GB RAM
Hard Drive – 320GB 
Std. / Max Paper Capacity 1,100/6,600
Resolution 600 x 600 dpi 1200 x 1200 dpi
Document Feeder Opt. 100-sheet RSPF/150-sheet DSPF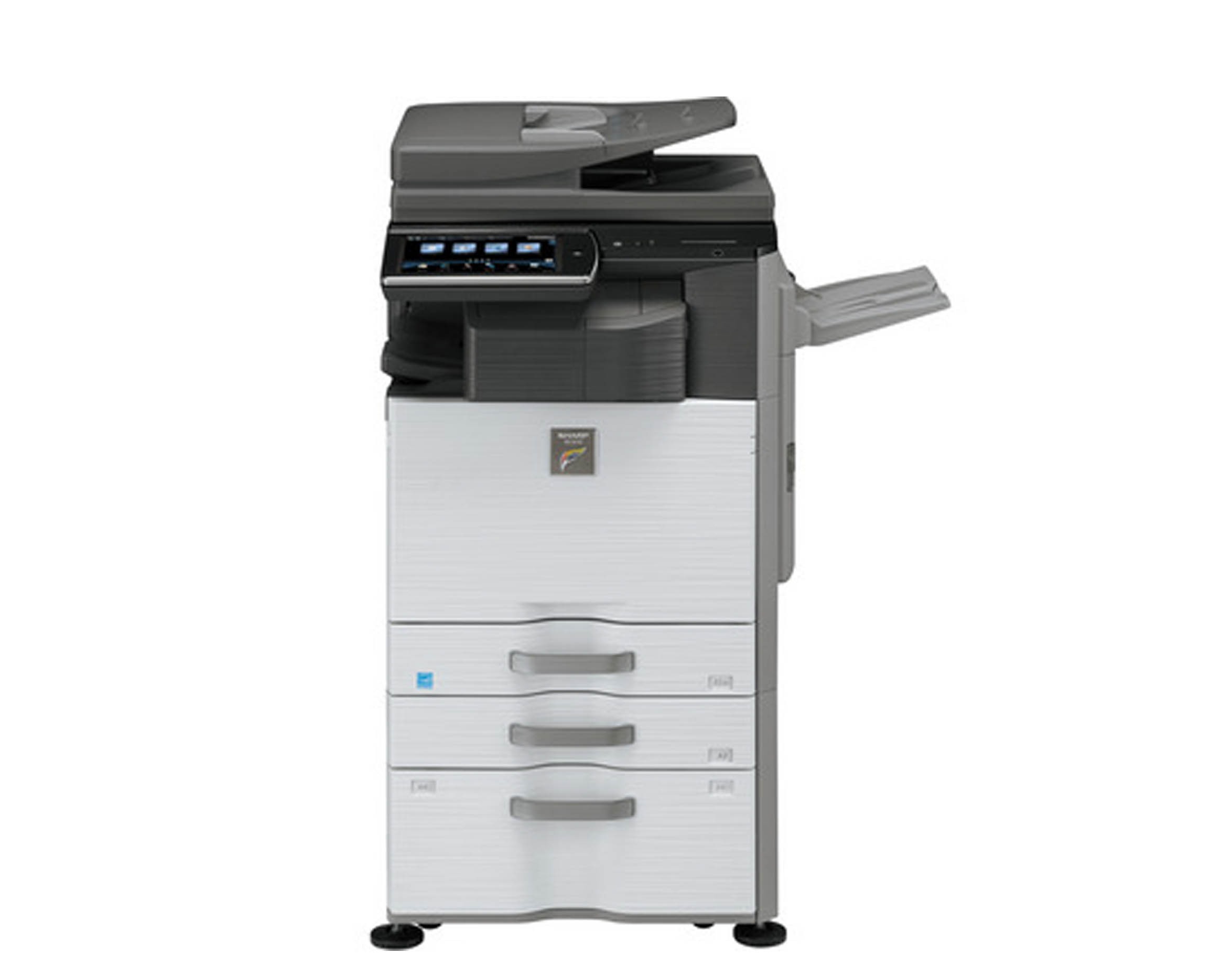 Specifications
Standard Network Print, Scan, Copy & Optional Fax
Maximum Output Size – 12″ x 18″ (Trays) / 12″ x 48″ (MPT)
Print Speed – up to36 pages per minute
Memory – 4GB RAM
Hard Drive – 320GB 
Std. / Max Paper Capacity 600/6,600
Resolution 600 x 600 dpi 1200 x 1200 dpi
Document Feeder 100-sheet RSPF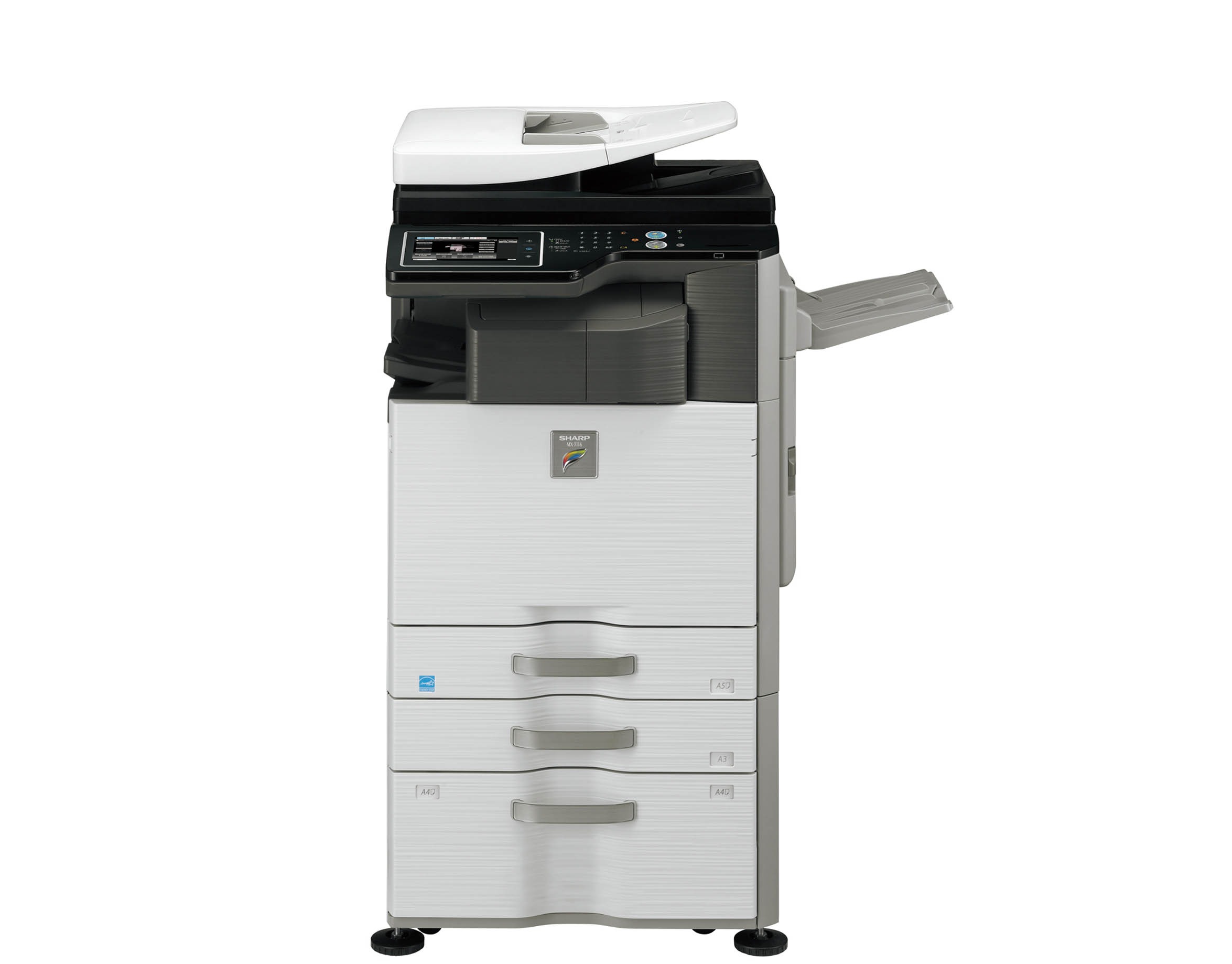 Specifications
Standard Network Print, Scan, Copy & Optional Fax
Maximum Output Size – 12″ x 18″ (Trays) / 12″ x 48″ (MPT)
Print Speed – up to 26 pages per minute
Memory – 1.5GB RAM
Hard Drive – 80GB 
Std. / Max Paper Capacity 1,100/5,600
Resolution 600 x 600 dpi 1200 x 1200 dpi
Document Feeder 100-sheet RSPF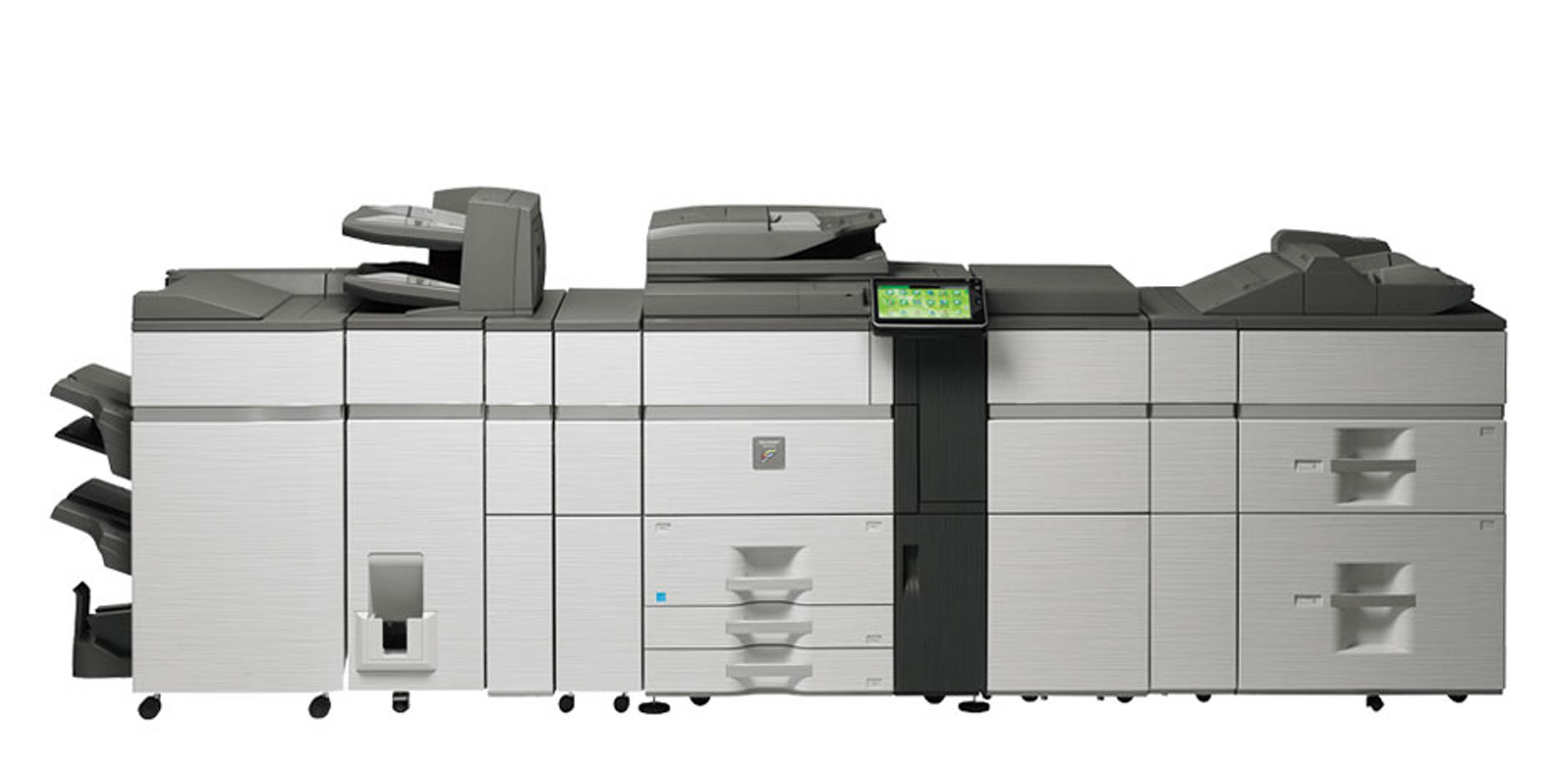 Specifications
Standard Network Print, Scan, Copy & Optional Fax
Maximum Output Size – 12″ x 18″ (Trays) / 12″ x 48″ (MPT)
Print Speed – up to 70 pages per minute
Memory – 5GB RAM
Hard Drive – 1TB 
Std. / Max Paper Capacity 3,100/8,500
Resolution 600 x 600 dpi 1200 x 1200 dpi
Document Feeder 150-sheet DSPF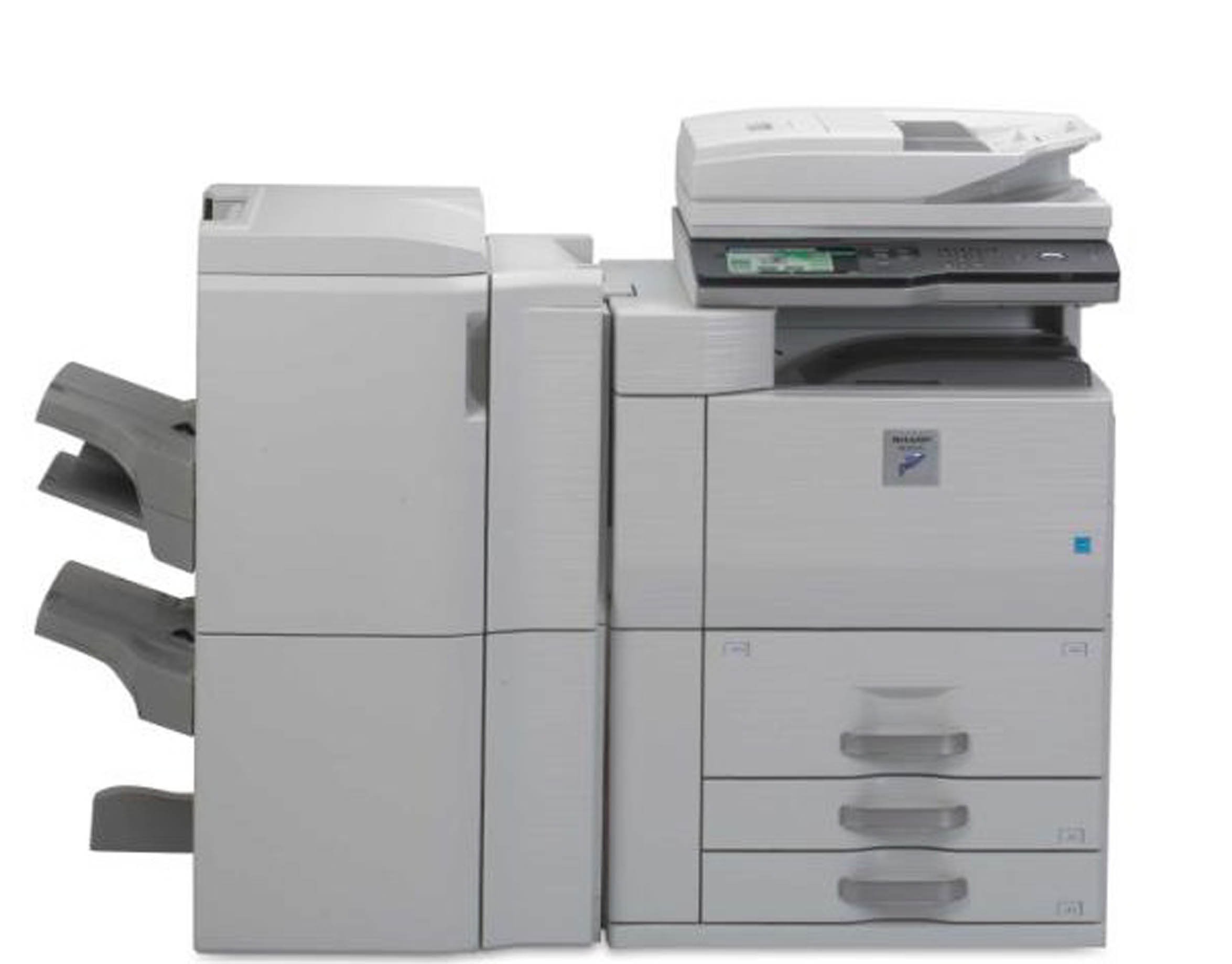 Specifications
Standard Network Print, Scan, Copy & Optional Fax
Maximum Output Size – 12″ x 18″ (Trays) / 12″ x 48″ (MPT)
Print Speed – up to 75 pages per minute
Memory – 1GB RAM
Hard Drive – 80GB 
Std. / Max Paper Capacity 2,000/3,500
Resolution 600 x 600 dpi 1200 x 1200 dpi
Document Feeder 150-sheet DSPF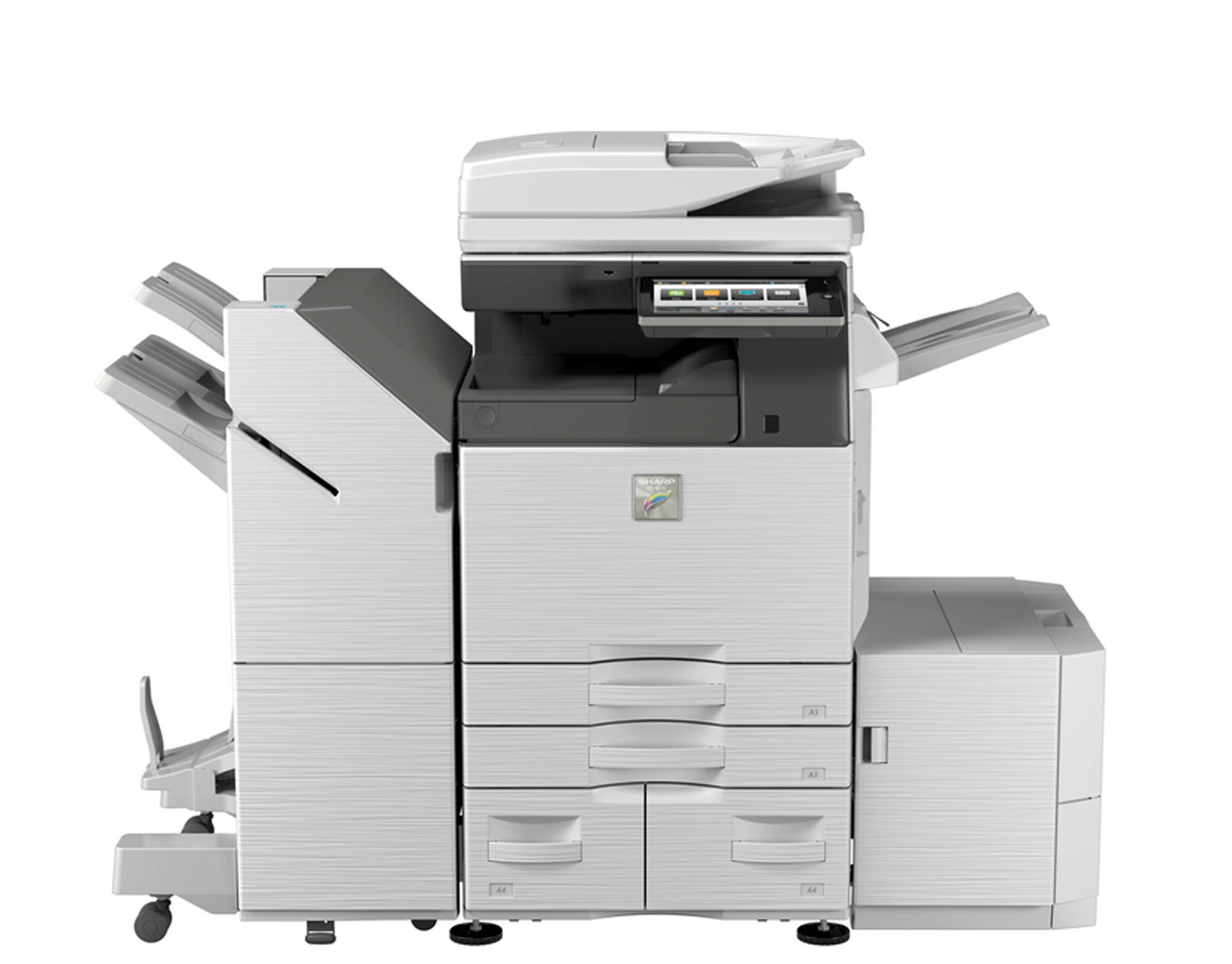 Specifications
Standard Network Print, Scan, Copy & Optional Fax
Maximum Output Size – 12″ x 18″ (Trays) / 12″ x 48″ (MPT)
Print Speed – up to 56 pages per minute
Memory – 3GB RAM
Hard Drive – 320GB 
Std. / Max Paper Capacity 600/6,600
Resolution 600 x 600 dpi 1200 x 1200 dpi
Document Feeder 150-sheet DSPF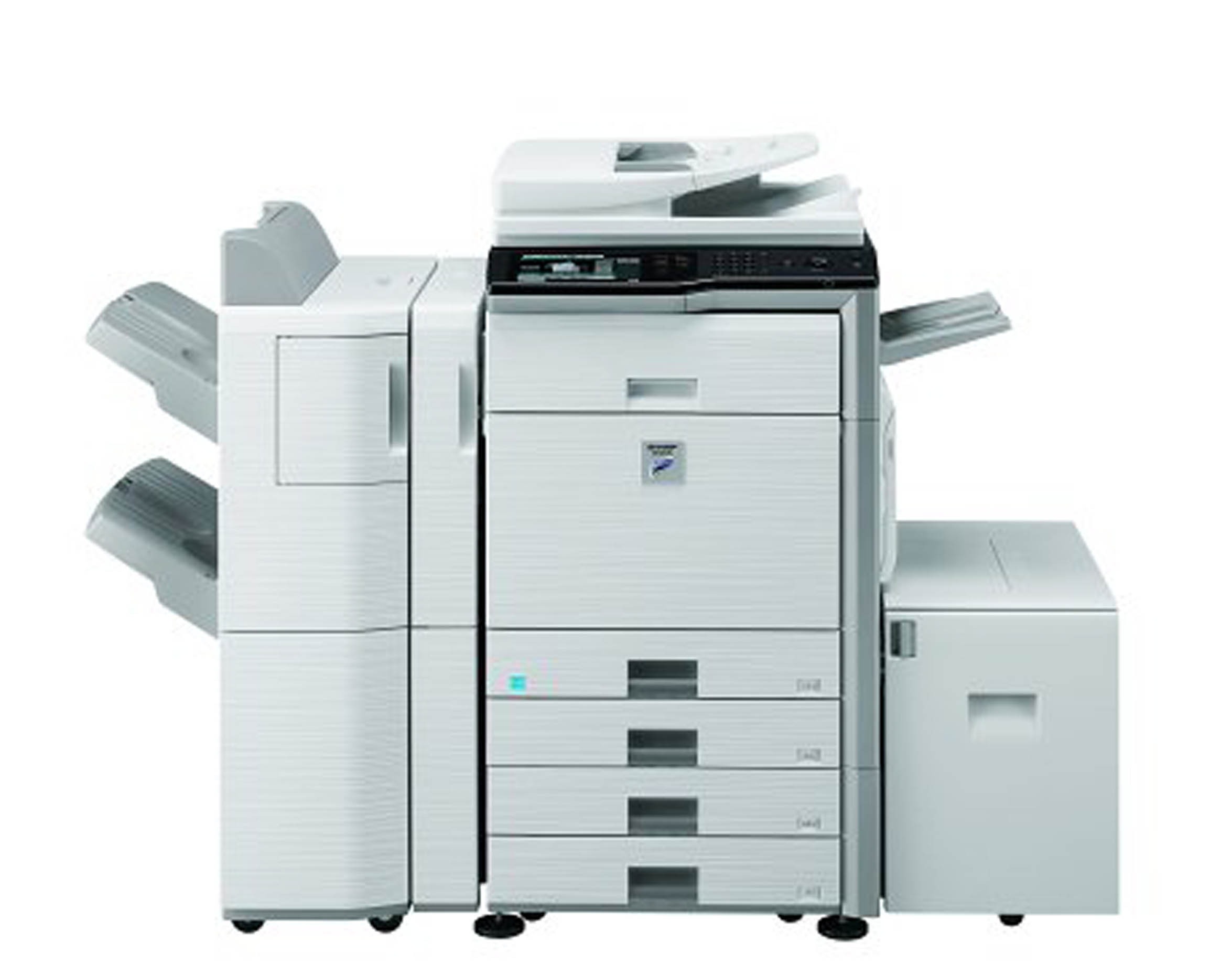 Specifications
Standard Network Print, Scan, Copy & Optional Fax
Maximum Output Size – 12″ x 18″ (Trays) / 12″ x 48″ (MPT)
Print Speed – up to 50 pages per minute
Memory – 1GB RAM
Hard Drive – 80GB 
Std. / Max Paper Capacity 1,100/5,600
Resolution 600 x 600 dpi 1200 x 1200 dpi
Document Feeder 100-sheet DSPF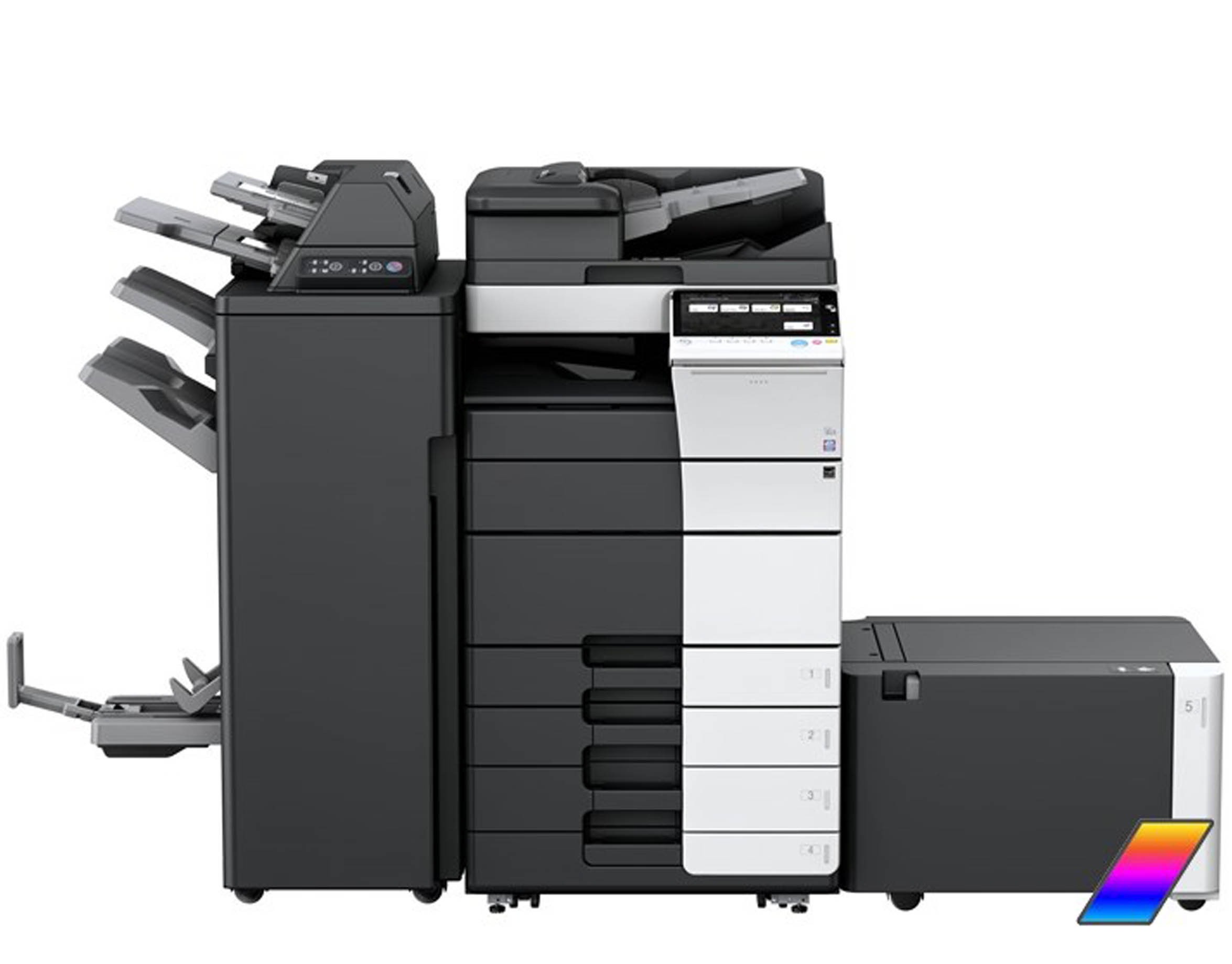 Specifications
Standard Network Print, Scan, Copy & Optional Fax
Maximum Output Size – 12″ x 18″ (Trays) / 12″ x 48″ (MPT)
Print Speed – up to 55 pages per minute
Memory – 4GB/ RAM
Hard Drive – 250GB 
Std. / Max Paper Capacity 1,150/6,650
Resolution 600 x 600 dpi 1200 x 1200 dpi
Document Feeder 300-sheet DADF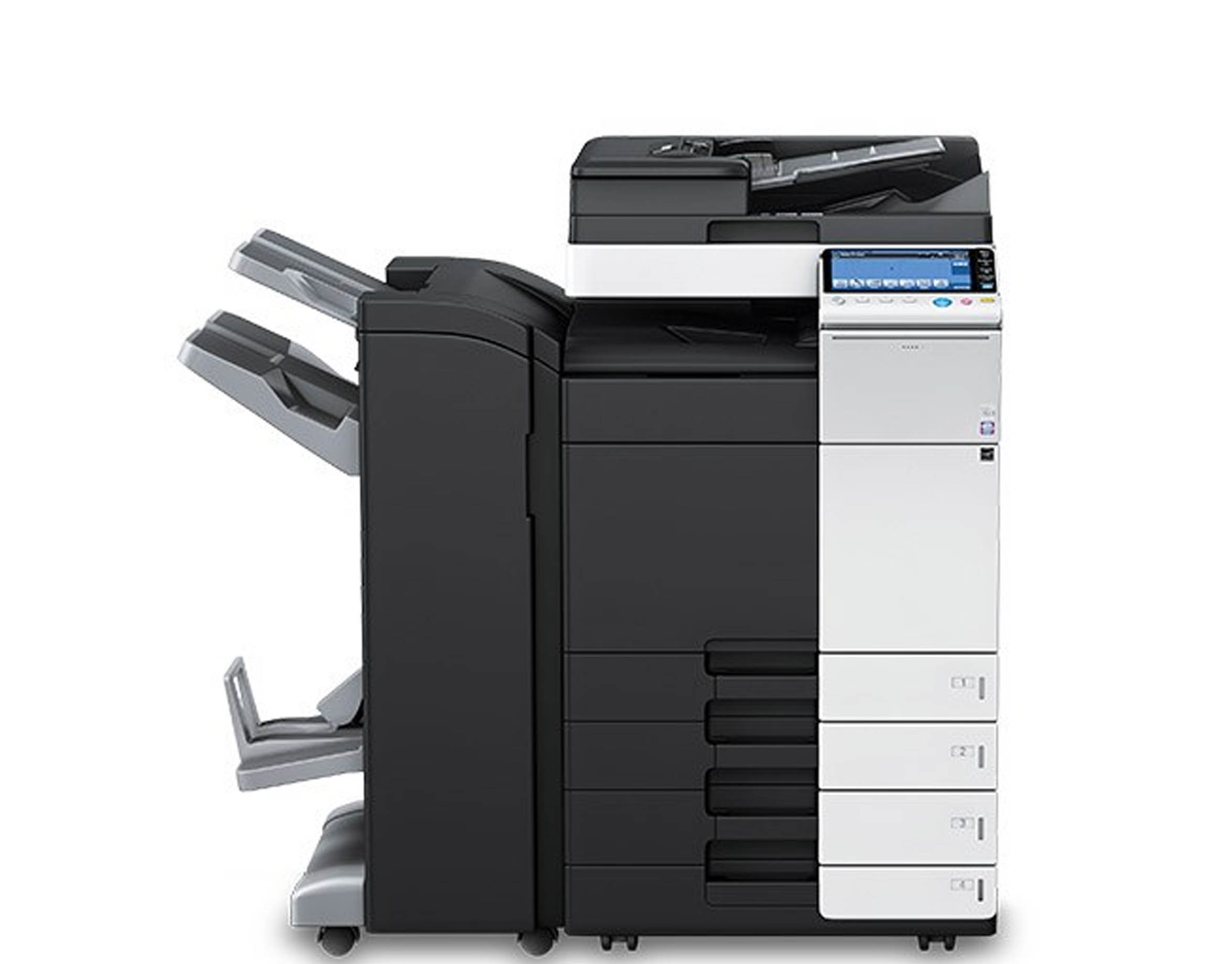 Specifications
Standard Network Print, Scan, Copy & Optional Fax
Maximum Output Size – 12″ x 18″ (Trays) / 12″ x 48″ (MPT)
Print Speed – up to 36 pages per minute
Memory – 2GB RAM
Hard Drive – 250GB 
Std. / Max Paper Capacity 1,150/6,650
Resolution 600 x 600 dpi 1200 x 1200 dpi
Document Feeder Opt. 100-sheet RADF/100-sheet DSDP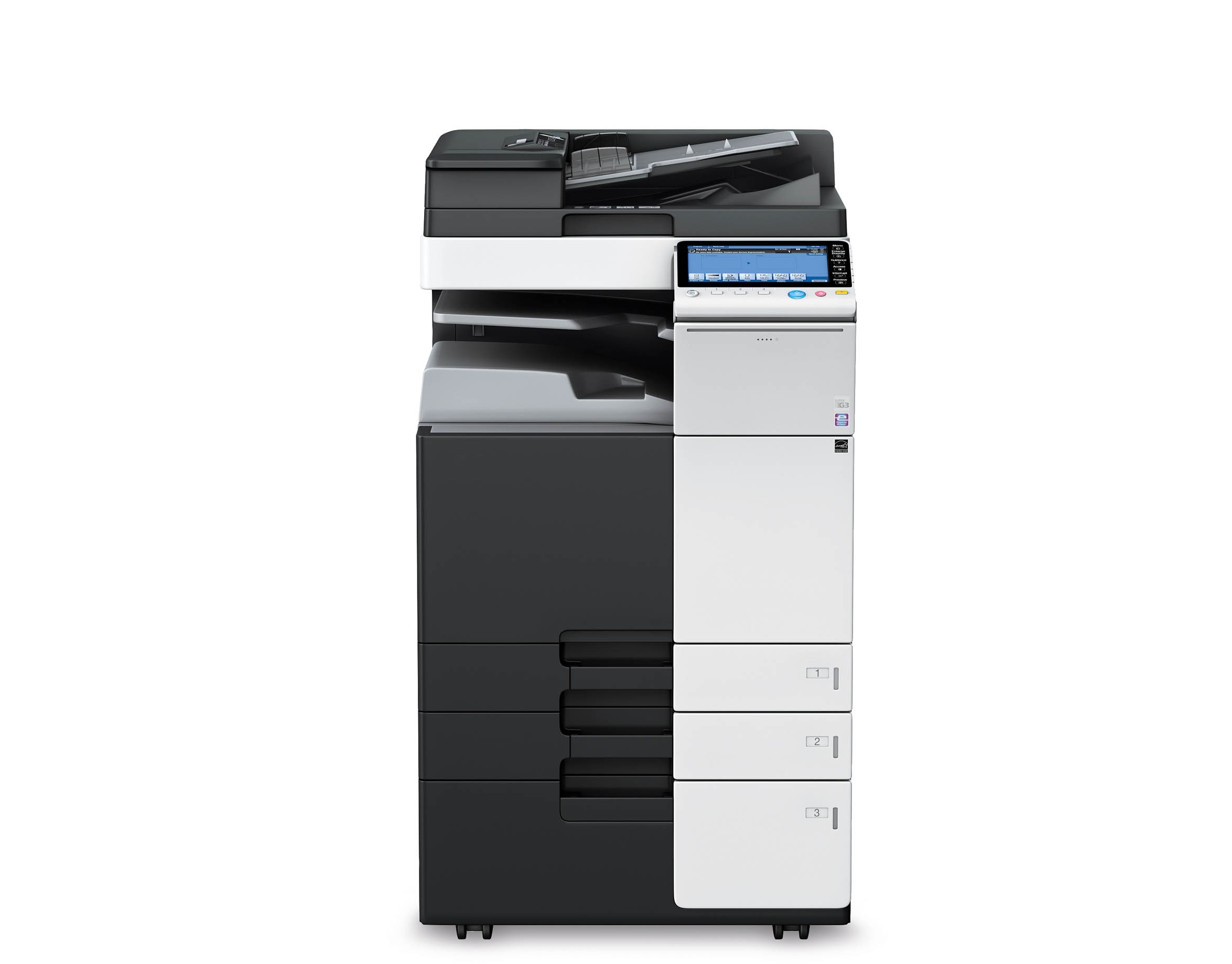 Specifications
Standard Network Print, Scan, Copy & Optional Fax
Maximum Output Size – 12″ x 18″ (Trays) / 12″ x 48″ (MPT)
Print Speed – up to 28 pages per minute
Memory – 2GB/4GB RAM
Hard Drive – 250GB 
Std. / Max Paper Capacity 1,150/3,600
Resolution 600 x 600 dpi 1200 x 1200 dpi
Document Feeder Opt. 100-sheet RADF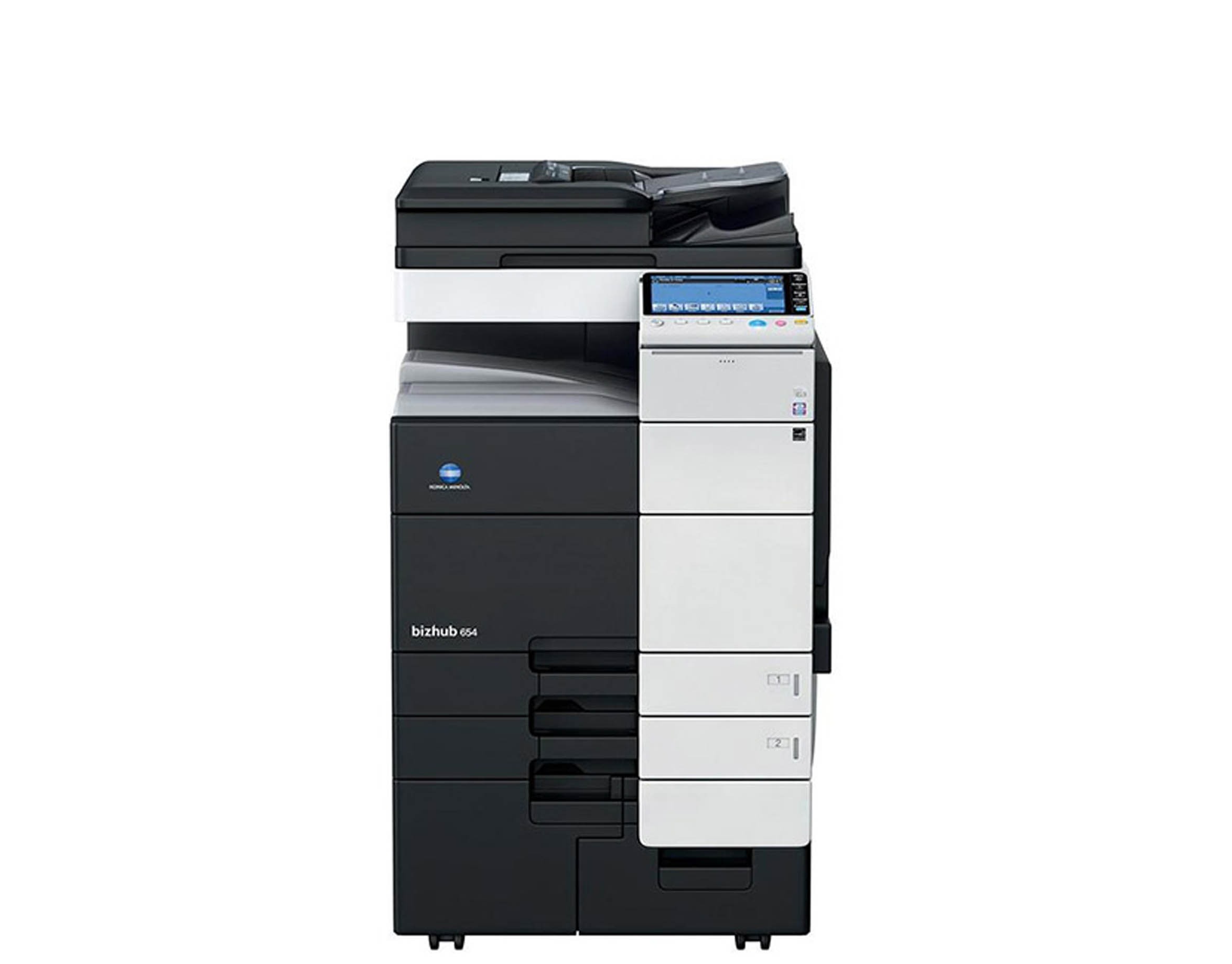 Specifications
Standard Network Print, Scan, Copy & Optional Fax
Maximum Output Size – 12″ x 18″ (Trays) / 12″ x 48″ (MPT)
Print Speed – up to 75 pages per minute
Memory – 2GB RAM
Hard Drive – 250GB 
Std. / Max Paper Capacity 3,650/6,650
Resolution 600 x 600 dpi 1200 x 1200 dpi
Document Feeder 150-sheet DSDP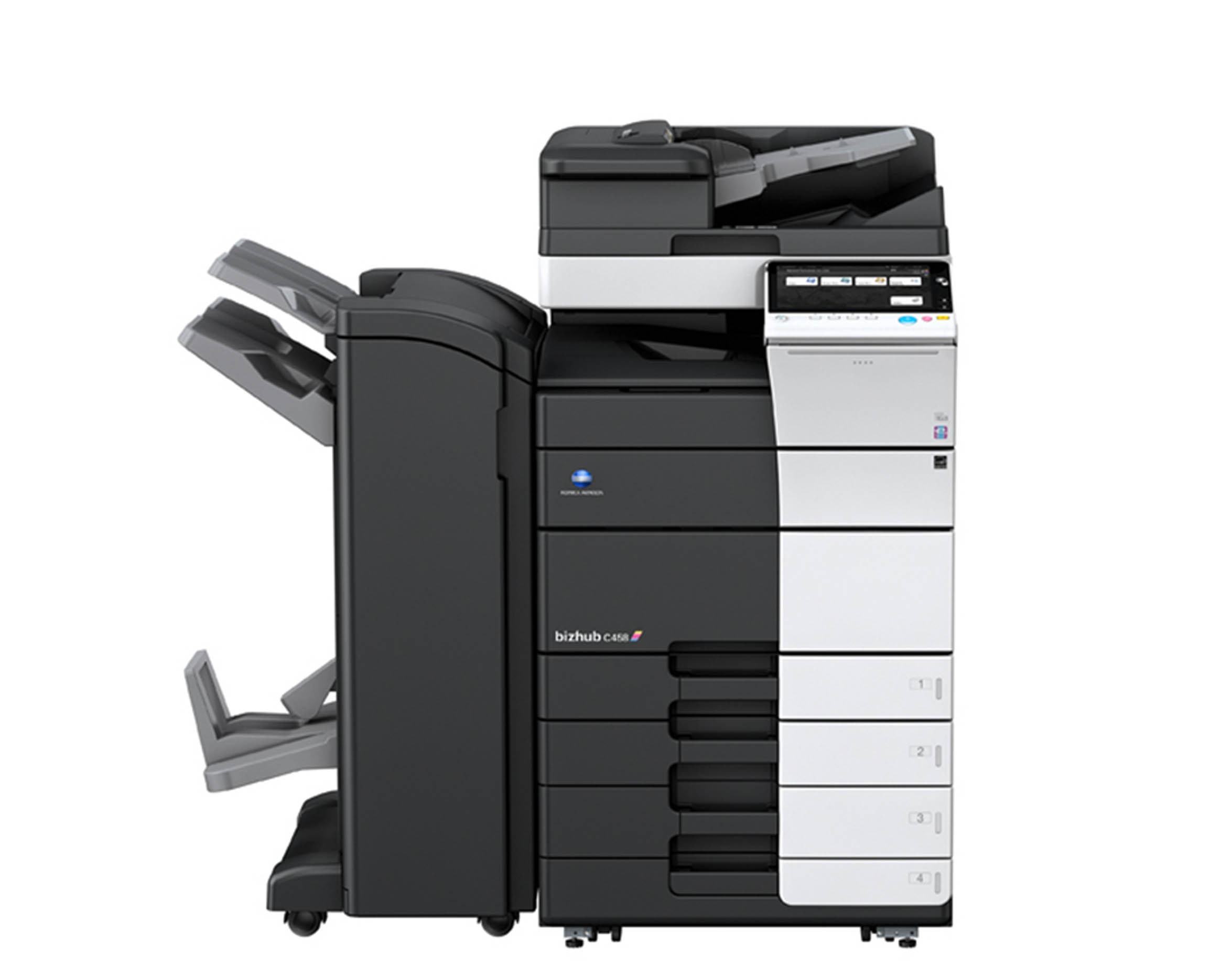 Specifications
Standard Network Print, Scan, Copy & Optional Fax
Maximum Output Size – 12″ x 18″ (Trays) / 12″ x 48″ (MPT)
Print Speed – up to 45 pages per minute
Memory – 4GB RAM
Hard Drive – 250GB 
Std. / Max Paper Capacity 1,150/6,650
Resolution 600 x 600 dpi 1200 x 1200 dpi
Document Feeder 300-sheet DSDP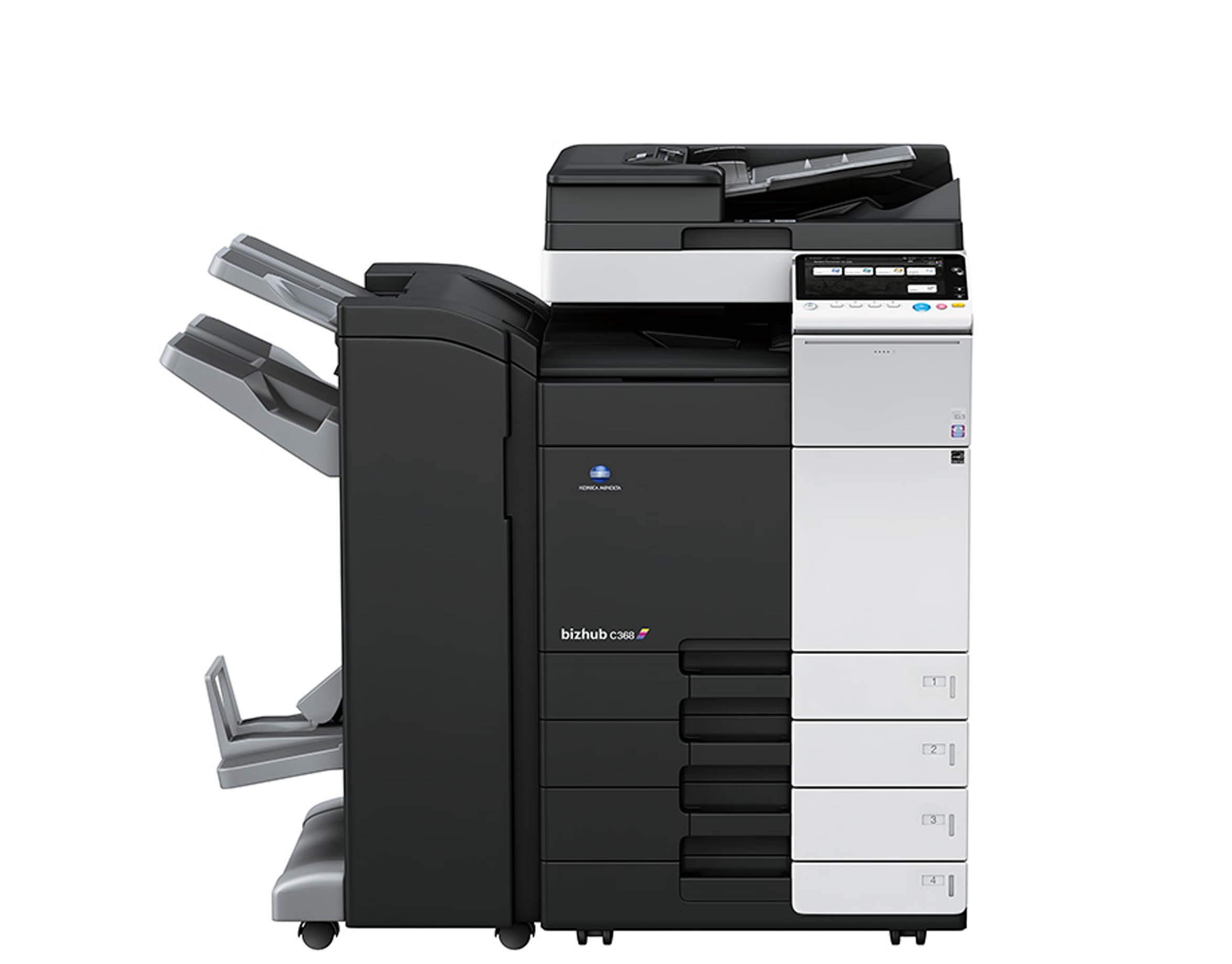 Specifications
Standard Network Print, Scan, Copy & Optional Fax
Maximum Output Size – 12″ x 18″ (Trays) / 12″ x 48″ (MPT)
Print Speed – up to 36 pages per minute
Memory – 4GB RAM
Hard Drive – 250GB 
Std. / Max Paper Capacity 1,150/6,650
Resolution 600 x 600 dpi 1200 x 1200 dpi
Document Feeder 100-sheet DSDP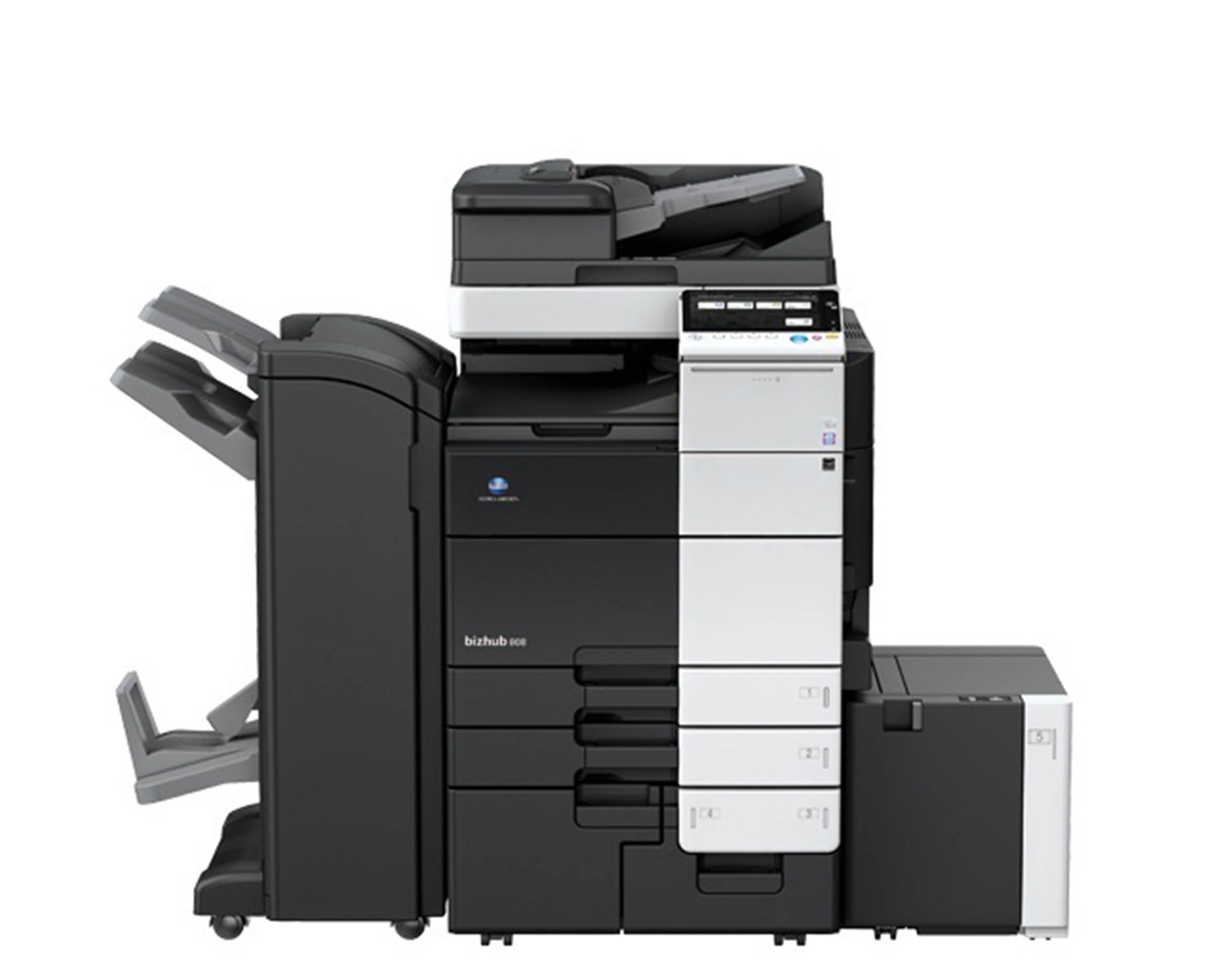 Specifications
Standard Network Print, Scan, Copy & Optional Fax
Maximum Output Size – 12″ x 18″ (Trays) / 12″ x 48″ (MPT)
Print Speed – up to 80 pages per minute
Memory – 4GB RAM
Hard Drive – 250GB 
Std. / Max Paper Capacity 3,650/6,650
Resolution 600 x 600 dpi 1200 x 1200 dpi
Document Feeder 300-sheet DSDP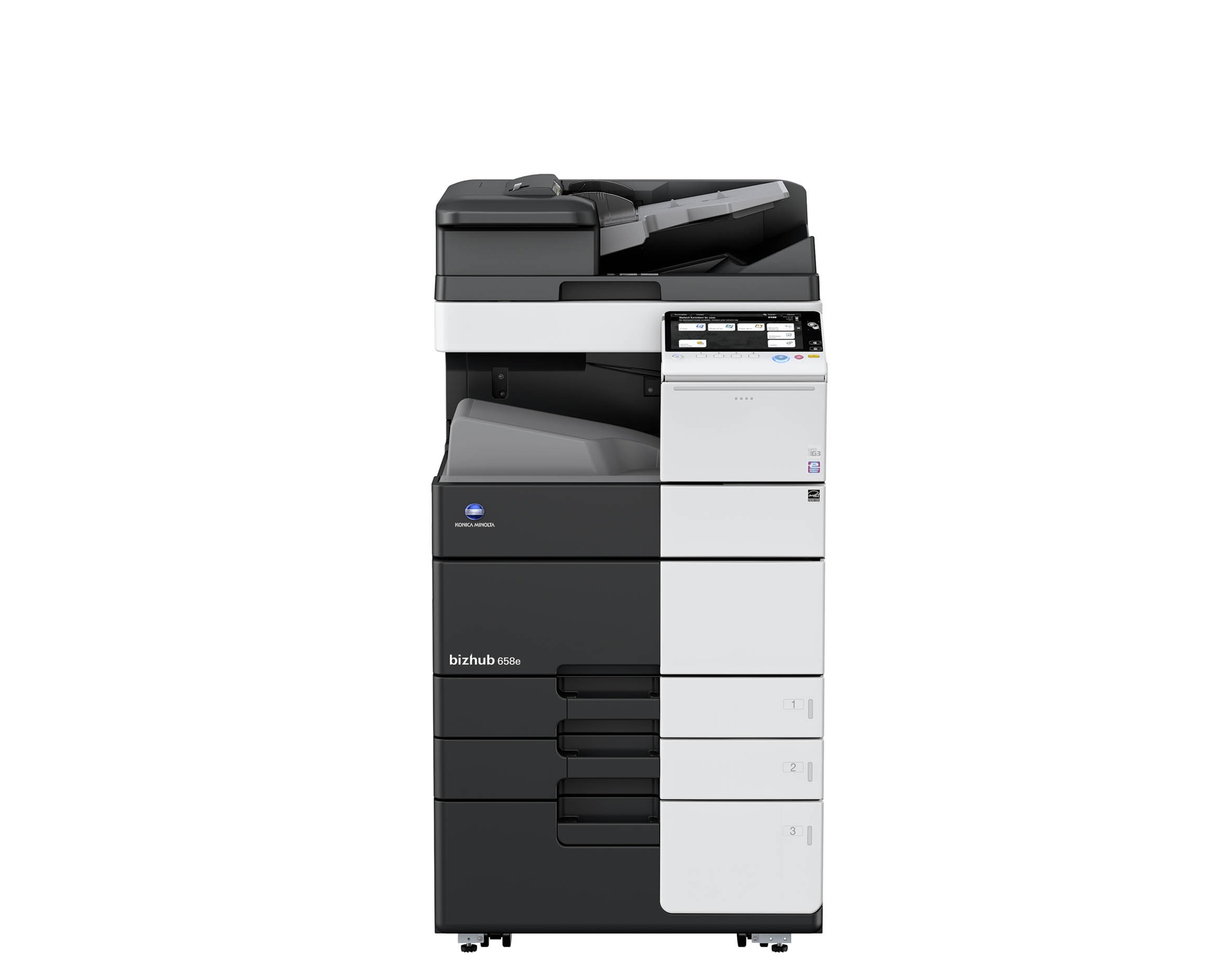 Specifications
Standard Network Print, Scan, Copy & Optional Fax
Maximum Output Size – 12″ x 18″ (Trays) / 12″ x 48″ (MPT)
Print Speed – up to 65 pages per minute
Memory – 4GB RAM
Hard Drive – 250GB 
Std. / Max Paper Capacity 1,150/6,650
Resolution 600 x 600 dpi 1200 x 1200 dpi
Document Feeder 300-sheet DSDP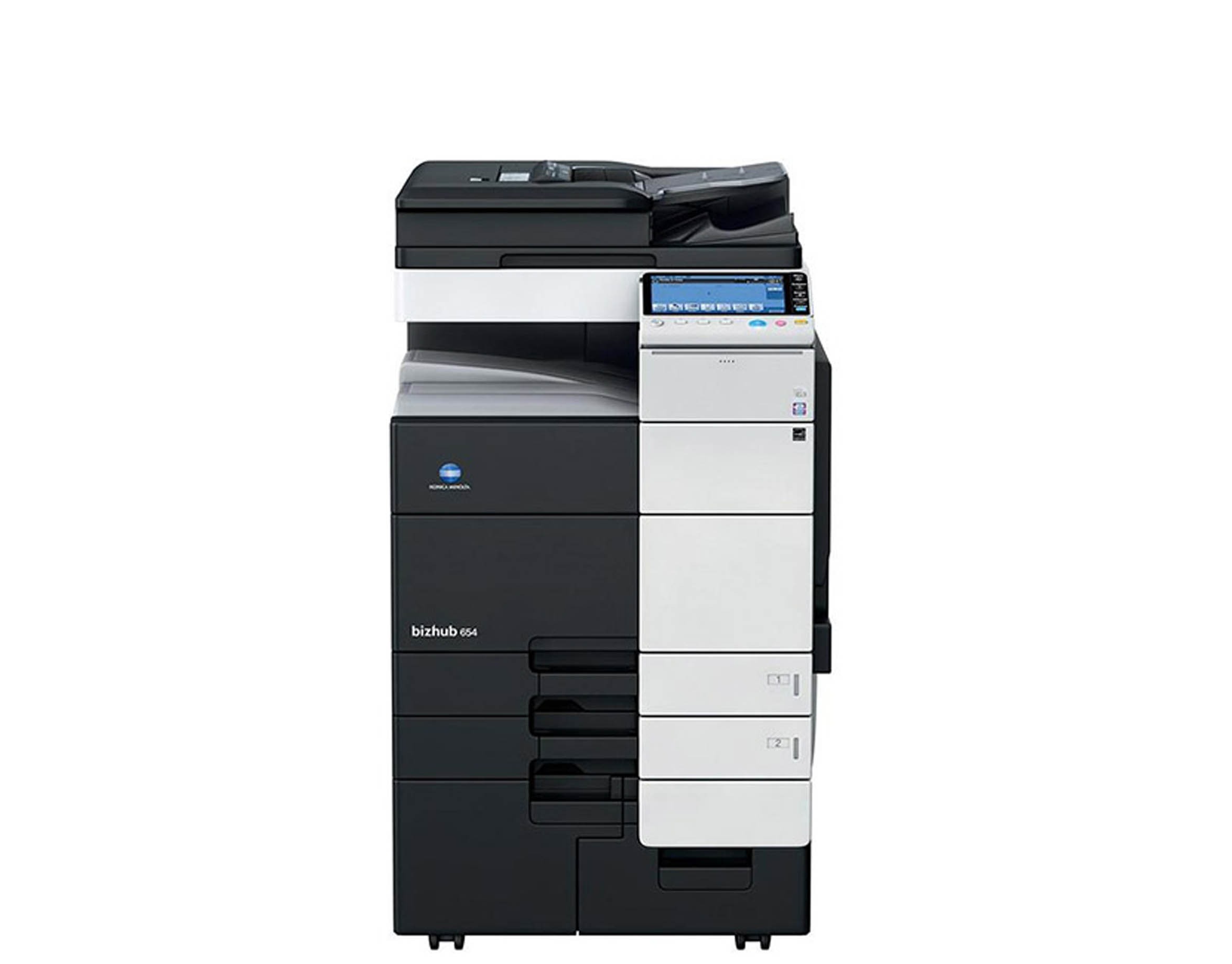 Specifications
Standard Network Print, Scan, Copy & Optional Fax
Maximum Output Size – 12″ x 18″ (Trays) / 12″ x 48″ (MPT)
Print Speed – up to 75 pages per minute
Memory – 2GB/4GB RAM
Hard Drive – 250GB 
Std. / Max Paper Capacity 1,500/6,650
Resolution 600 x 600 dpi 1200 x 1200 dpi
Document Feeder Opt. 140-sheet RADF/270-sheet DSDP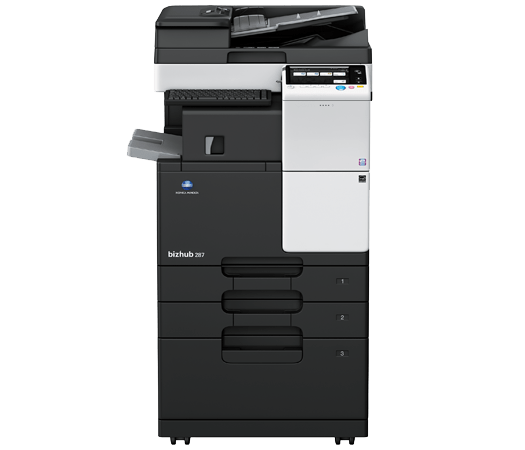 Specifications
Standard Network Print, Scan, Copy & Optional Fax
Maximum Output Size – 12″ x 18″ (Trays) / 12″ x 48″ (MPT)
Print Speed – up to 28 pages per minute
Memory – 4GB RAM
Hard Drive – 250GB 
Std. / Max Paper Capacity 1,150/3,600
Resolution 600 x 600 dpi 1800 x 600 dpI
Document Feeder Opt. 100-sheet RADF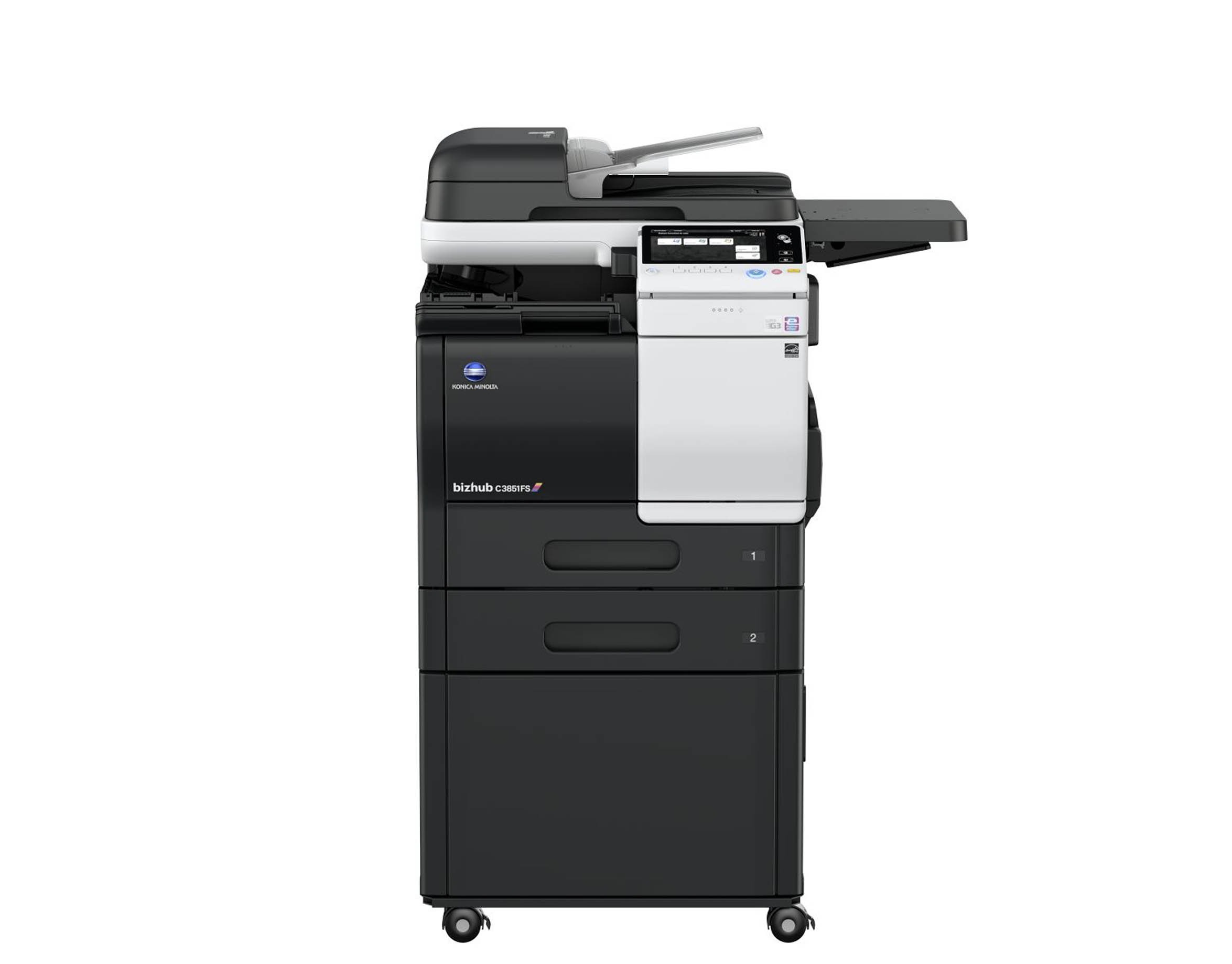 Specifications
Standard Network Print, Scan, Copy & Optional Fax
Maximum Output Size – 12″ x 18″ (Trays) / 12″ x 48″ (MPT)
Print Speed – up to 40 pages per minute
Memory – 4GB RAM
Hard Drive – 250GB 
Std. / Max Paper Capacity 650/1,650
Resolution 600 x 600 dpi 1200 x 1200 dpi
Document Feeder 50-sheet RADF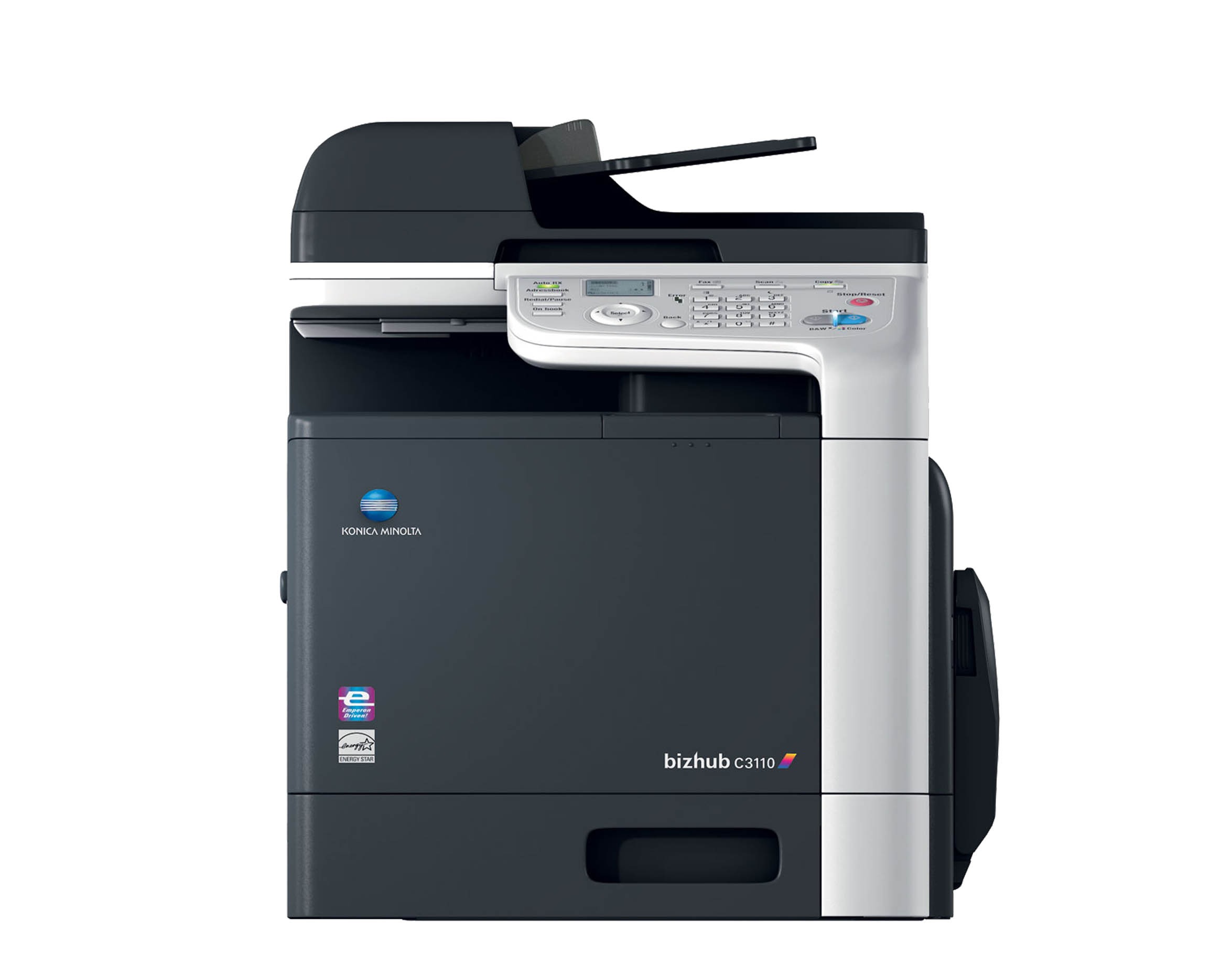 Specifications
Standard Network Print, Scan, Copy & Optional Fax
Maximum Output Size – 12″ x 18″ (Trays) / 12″ x 48″ (MPT)
Print Speed – up to 32 pages per minute
Memory – 1GB/2GB RAM
Hard Drive – 320GB 
Std. / Max Paper Capacity 350/850
Resolution 600 x 600 dpi 1200 x 1200 dpi
Document Feeder 50-sheet RADF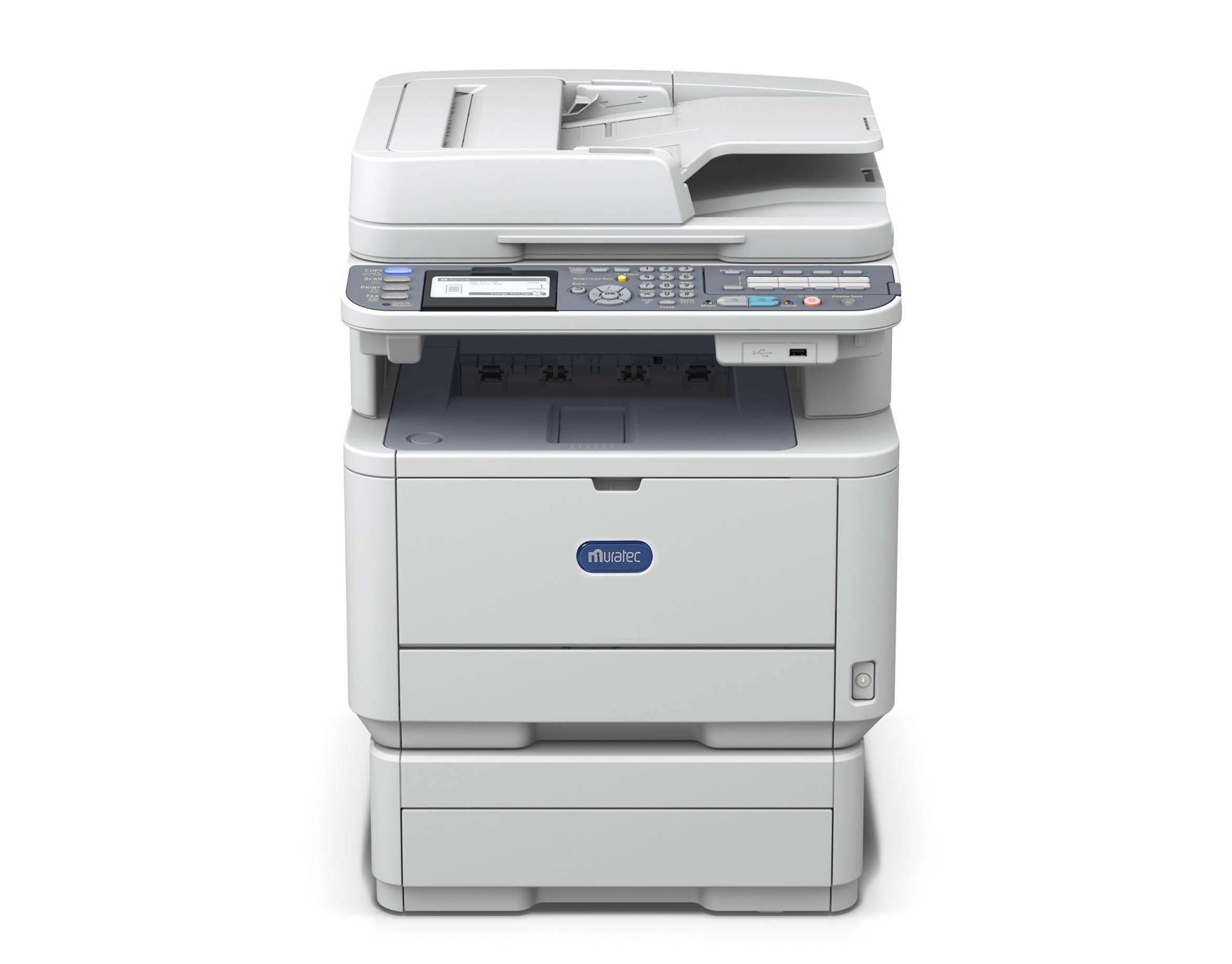 Specifications
Standard Network Print, Scan, Copy & Optional Fax
Maximum Output Size – 8.5″ x 14″
Print Speed – up to 27 pages per minute
Memory – NA
Hard Drive – NA 
Std. / Max Paper Capacity 350/880
Resolution 600 x 600 dpi 1200 x 1200 dpi
Document Feeder 50-sheet RADF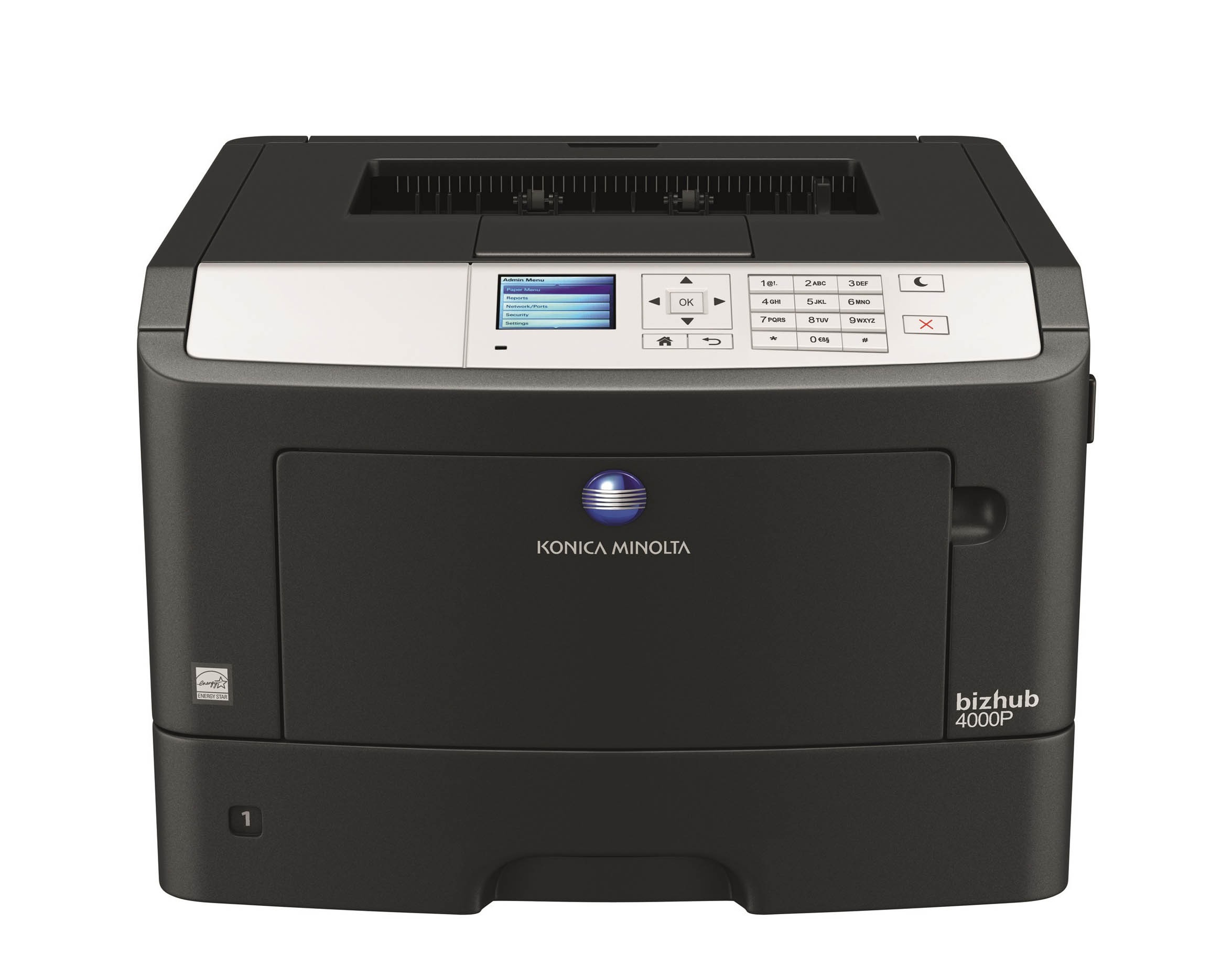 Specifications
Standard Network Print
Maximum Output Size – 12″ x 18″ (Trays) / 12″ x 48″ (MPT)
Print Speed – up to 42 pages per minute
Memory – 256MB/1.2GB RAM
Hard Drive – NA 
Std. / Max Paper Capacity 350/2,000
Resolution 1200 x 1200 dpi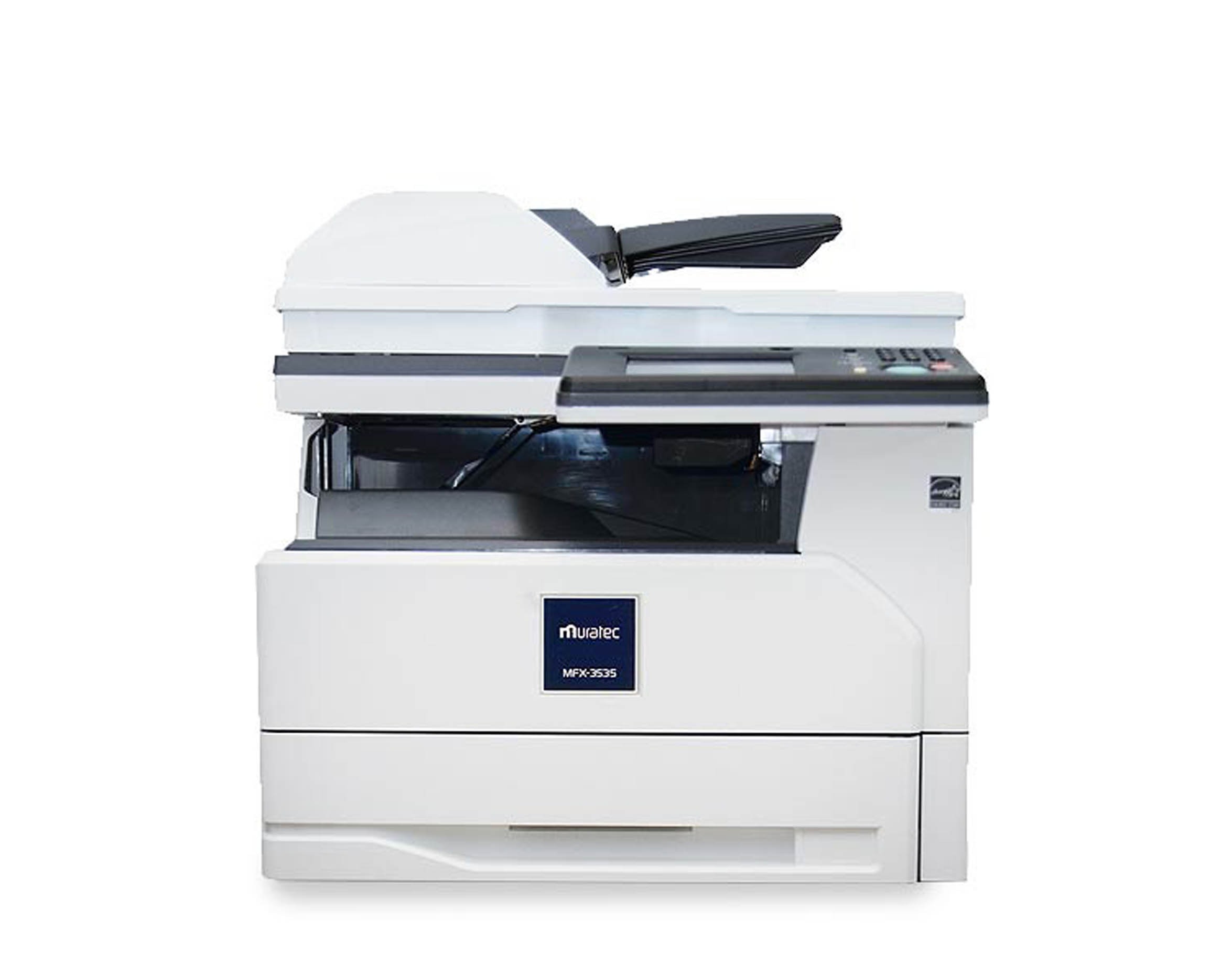 Specifications
Standard Network Print, Scan, Copy & Optional Fax
Maximum Output Size – 12″ x 18″ (Trays) / 12″ x 48″ (MPT)
Print Speed – up to 41/50 pages per minute
Memory – 512MB/1GB RAM
Hard Drive – 80GB 
Std. / Max Paper Capacity 1,000/3,500
Resolution 600 x 600 dpi 1200 x 1200 dpi
Document Feeder Opt. 100-sheet RSPF/150-sheet DSPF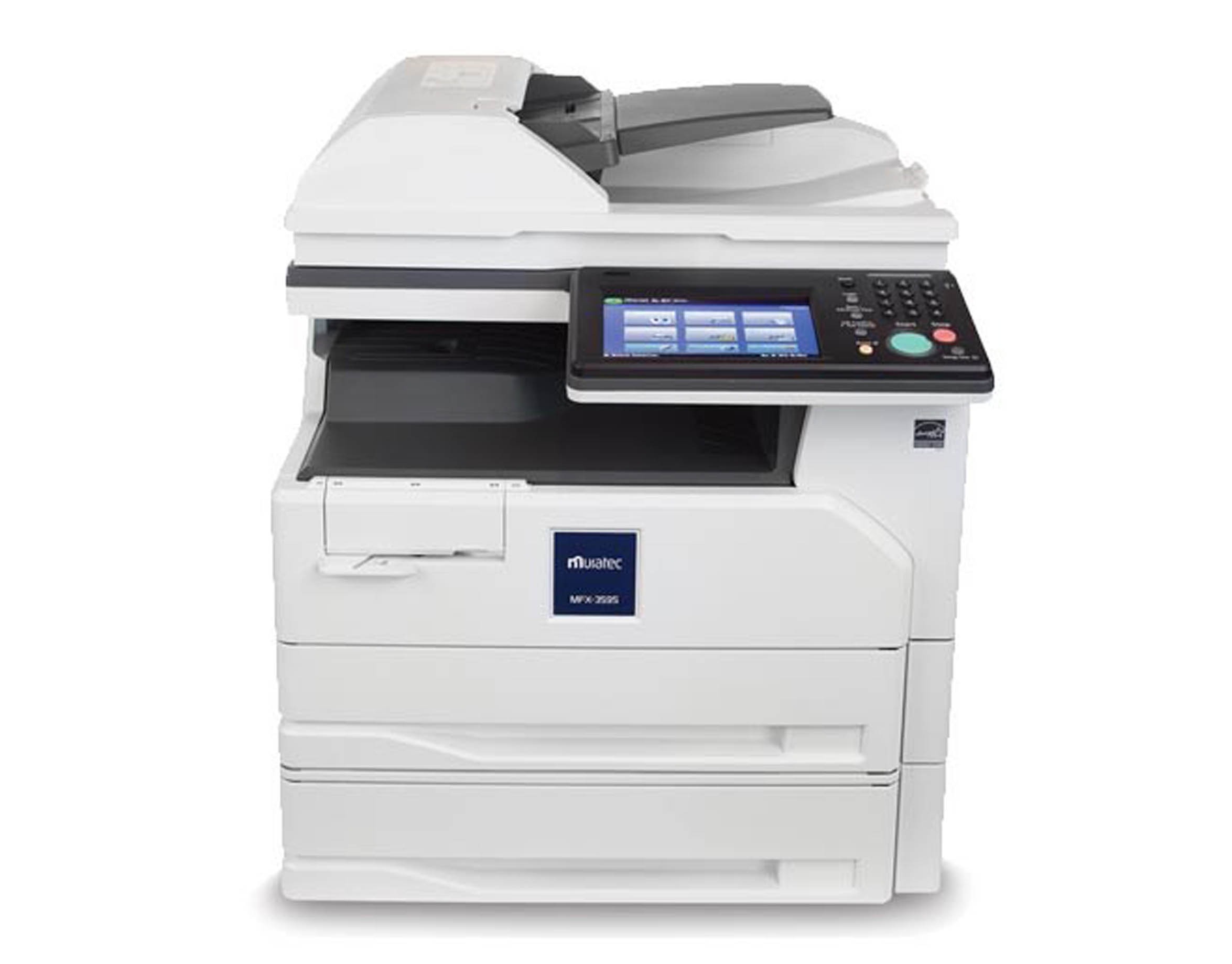 Specifications
Standard Network Print, Scan, Copy & Optional Fax
Maximum Output Size – 8.5″ x 14″
Print Speed – up to 37 pages per minute
Memory – NA
Hard Drive – NA 
Std. / Max Paper Capacity 1,150/6,650
Resolution 600 x 600 dpi
Document Feeder 80-sheet