The Monochrome printers and copiers in our sales line-up include all the most trusted brands in today's technological age. Revered for their innumerable high-tech capabilities, these machines still remain shockingly affordable. Many computer experts really love the easy-to-grasp printing software we supply with our printers and copiers, which is used together with the electronic hardware to streamline the printing process.
As a licensed service provider for a variety of printer brands, TOPS Inc. also offers several maintenance plans with the equipment we sell. Our techs are authorized and instructed by the manufacturer, possessing all the necessary files and machinery to get your device working in as little time as feasible.
Please contact us so we can discuss your goals and needs when it comes to your copier, printer, fax or scan needs.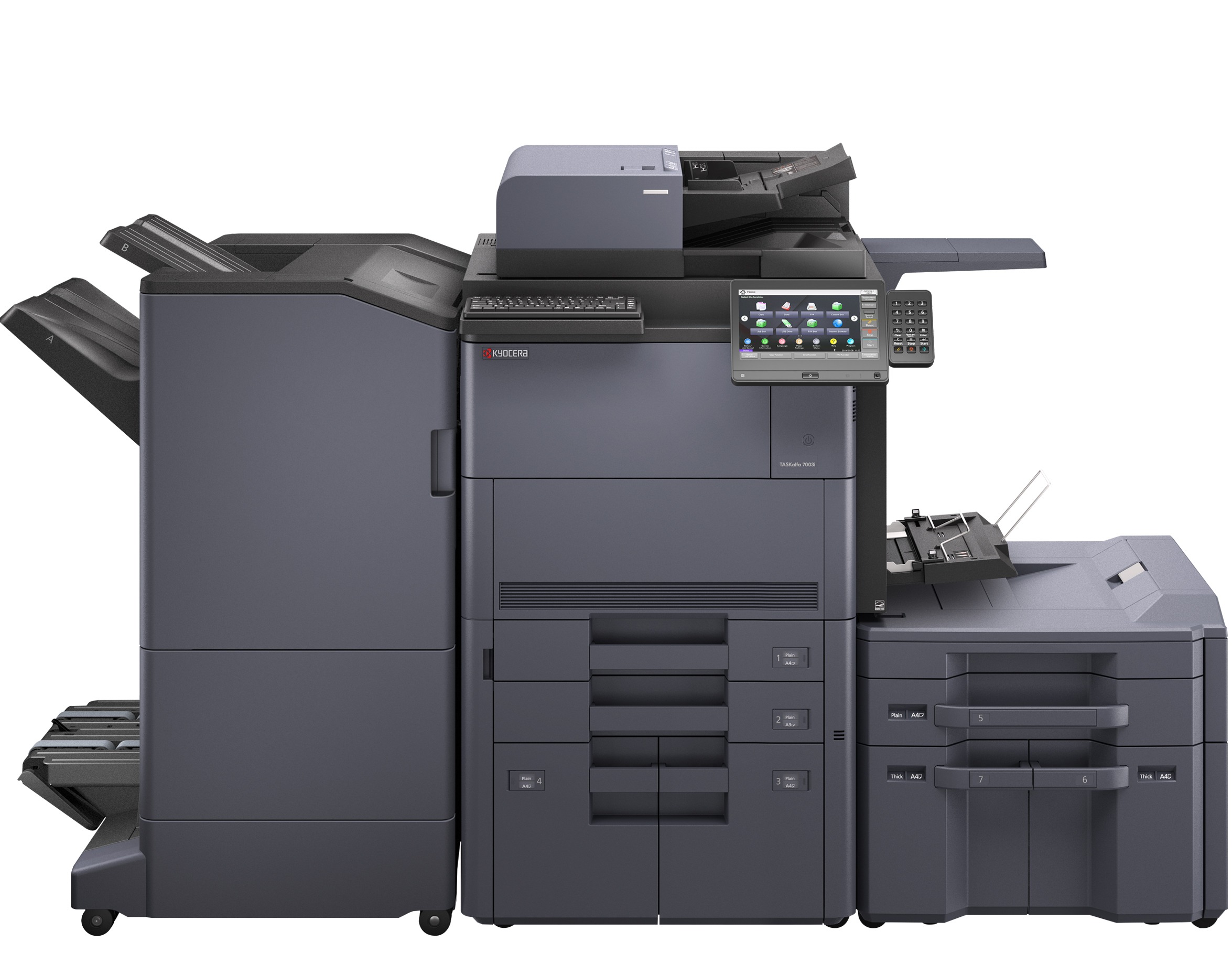 Specifications
70/80/90 ppm B&W
Print/Scan/Copy/Fax
1200 x 1200 dpi
Standard: 4,150 Sheets
Maximum: 7,650 Sheets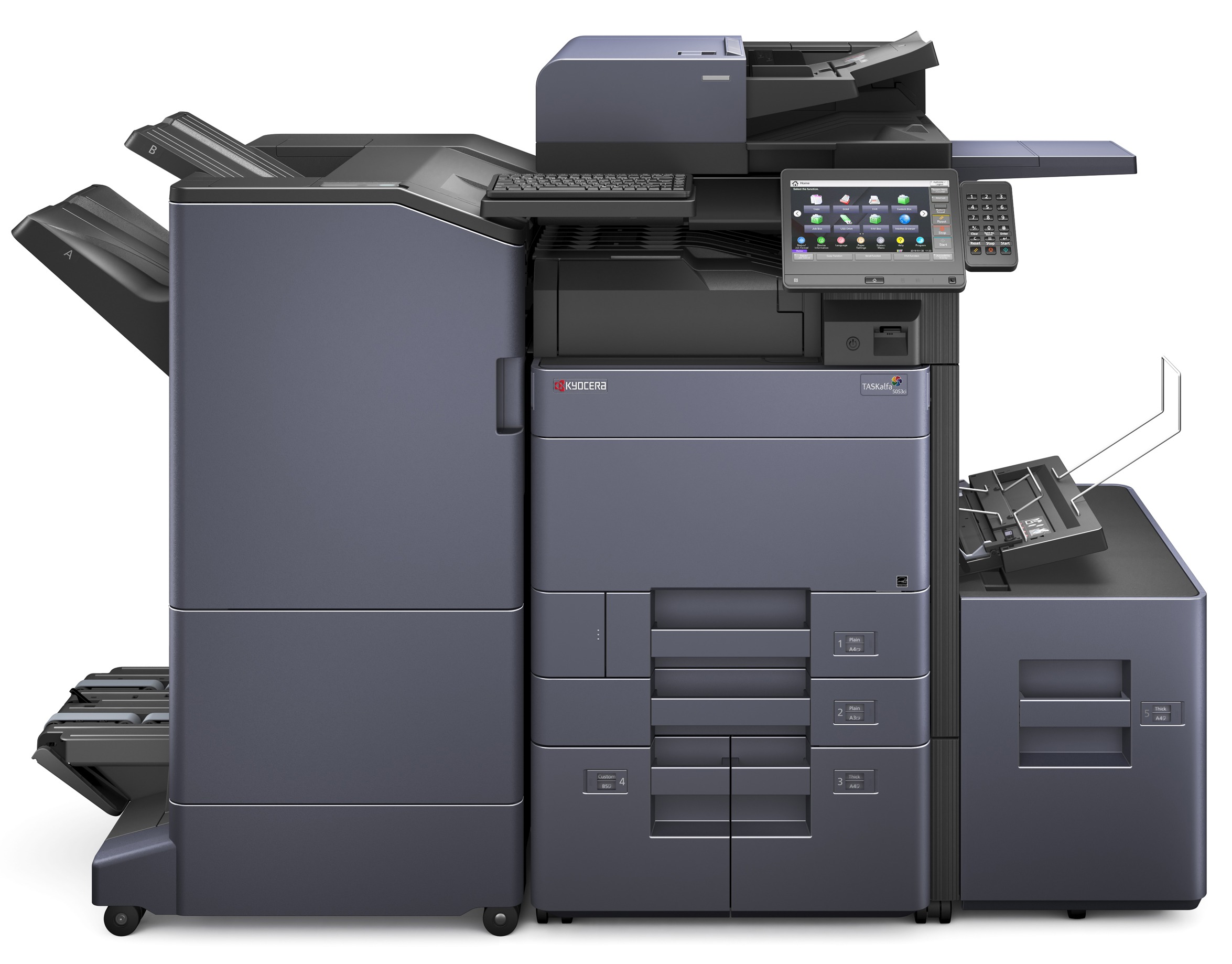 Specifications
40/50/60 ppm B&W
Print/Scan/Copy/Fax
1200 x 1200 dpi
Standard: 1,150 Sheets
Maximum: 7,150 Sheets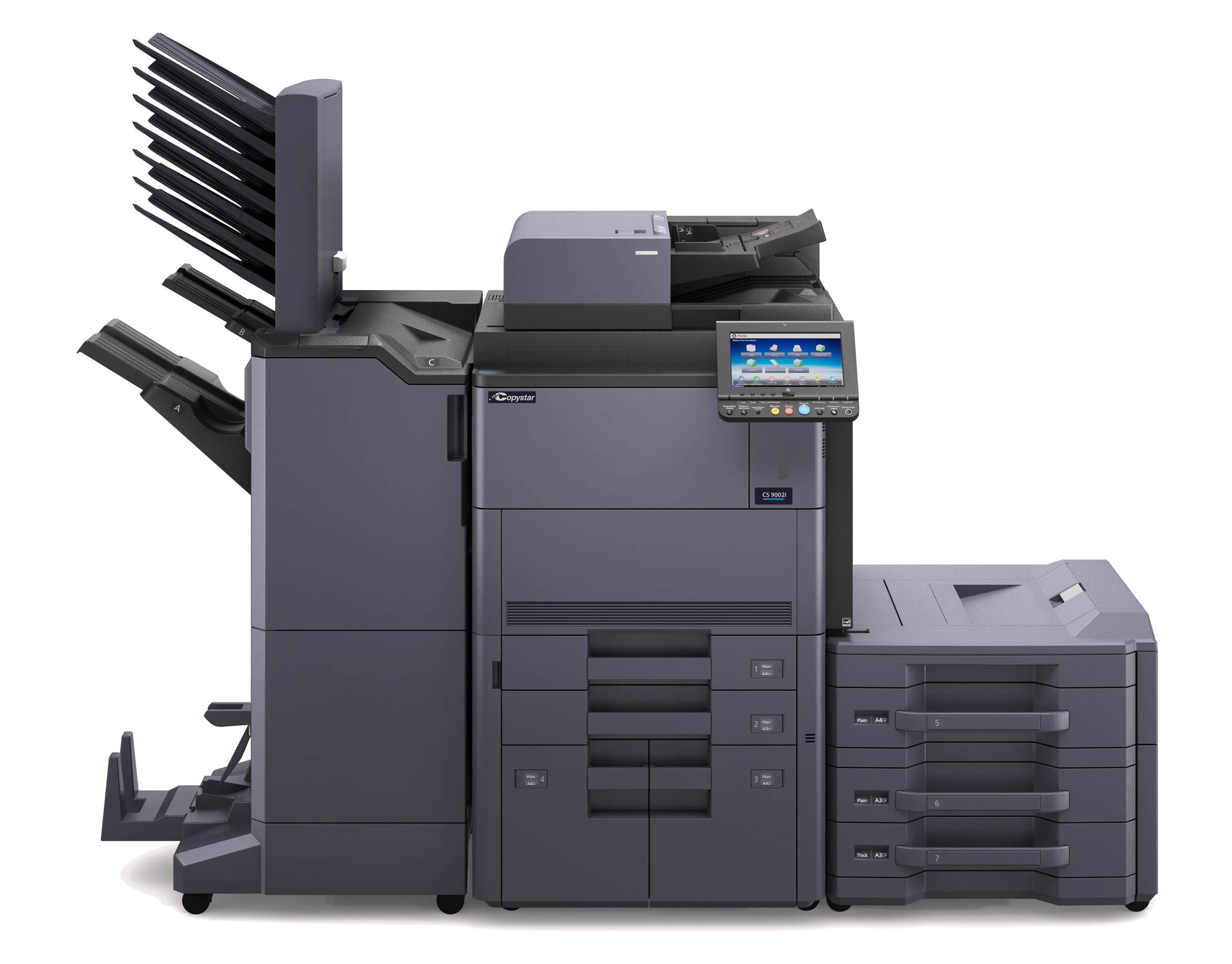 Specifications
Standard Network Print, Scan, Copy & Optional Fax
Maximum Output Size – 12″ x 18″ (Trays) / 12″ x 48″ (MPT)
Print Speed – up to 90 pages per minute
Memory – 4.5GB RAM
Hard Drive – 320GB 
Std. / Max Paper Capacity 600/3,100
Resolution 600 x 600 dpi 1200 x 1200 dpi
Document Feeder 270-sheet DSDP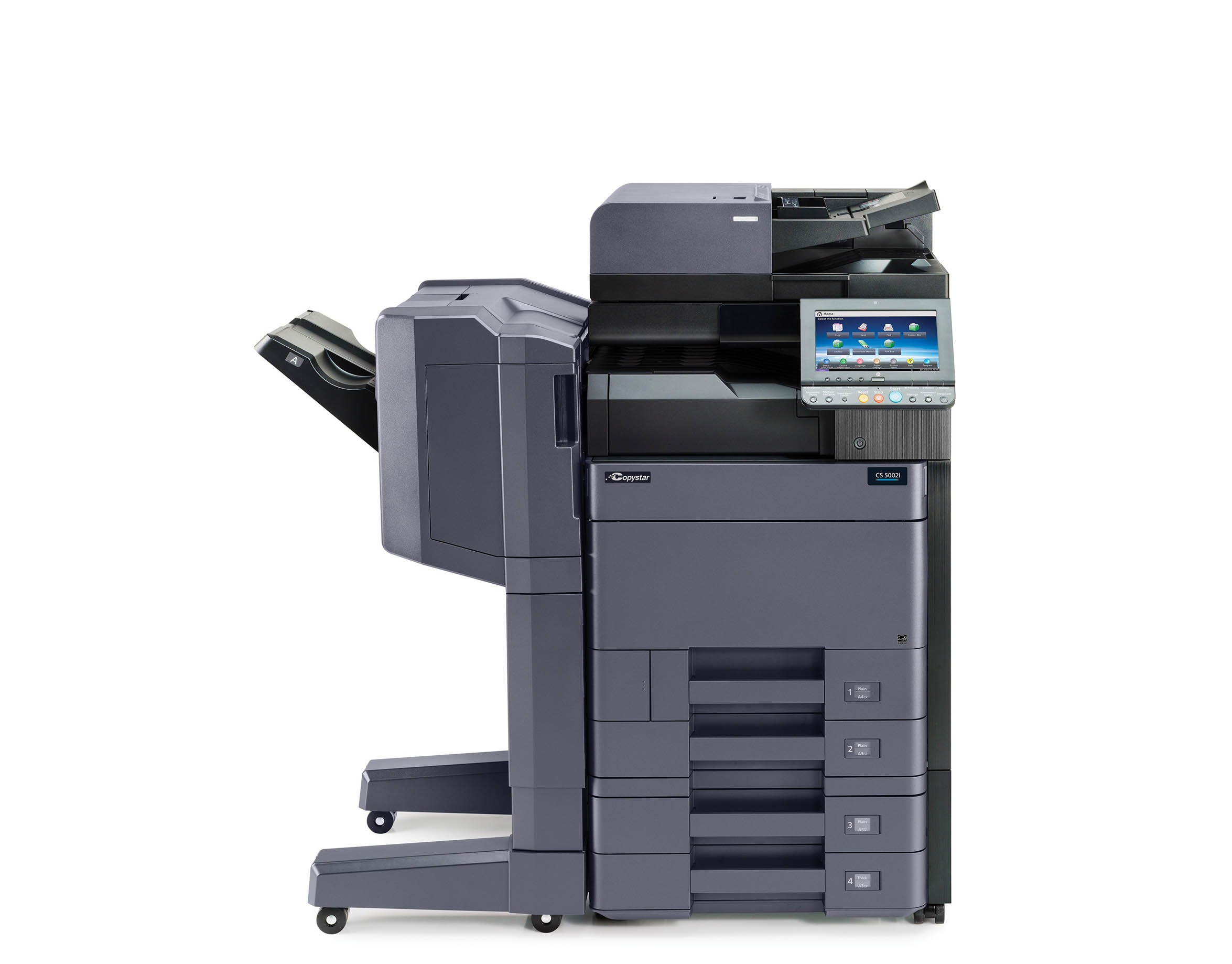 Specifications
Standard Network Print, Scan, Copy & Optional Fax
Maximum Output Size – 12″ x 18″ (Trays) / 12″ x 48″ (MPT)
Print Speed – up to 50 pages per minute
Memory – 4GB RAM
Hard Drive – 320GB 
Std. / Max Paper Capacity 1,150/7,150
Resolution 600 x 600 dpi 1200 x 1200 dpi
Document Feeder Opt. 140-sheet RADF/270-sheet DSDP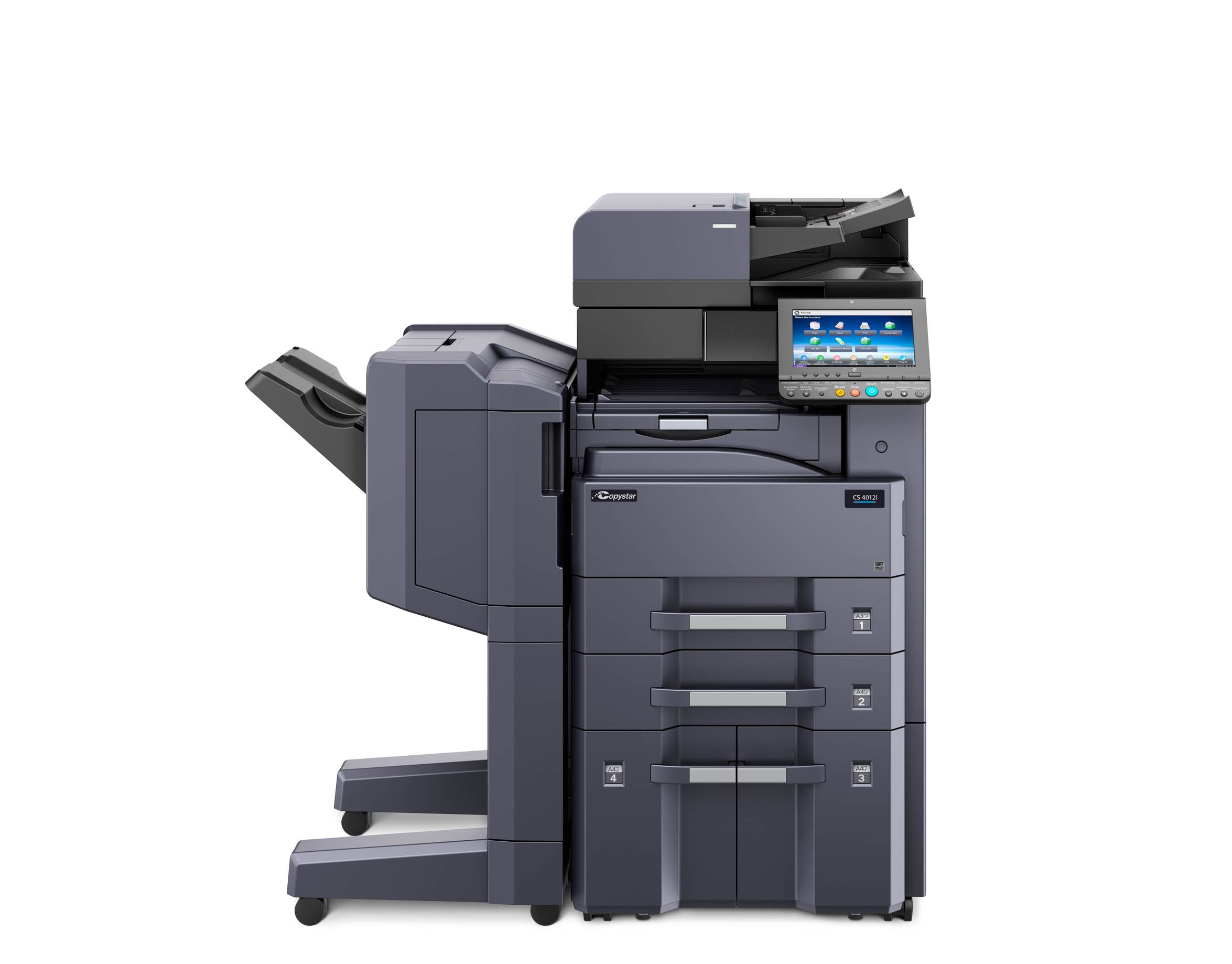 Specifications
Standard Network Print, Scan, Copy & Optional Fax
Maximum Output Size – 12″ x 18″ (Trays) / 12″ x 48″ (MPT)
Print Speed – up to 40 pages per minute
Memory – 2GB RAM
Hard Drive – 320GB 
Std. / Max Paper Capacity 1,100/4,100
Resolution 600 x 600 dpi 1200 x 1200 dpi
Document Feeder Opt. 50/140-sheet RADF/270-sheet DSDP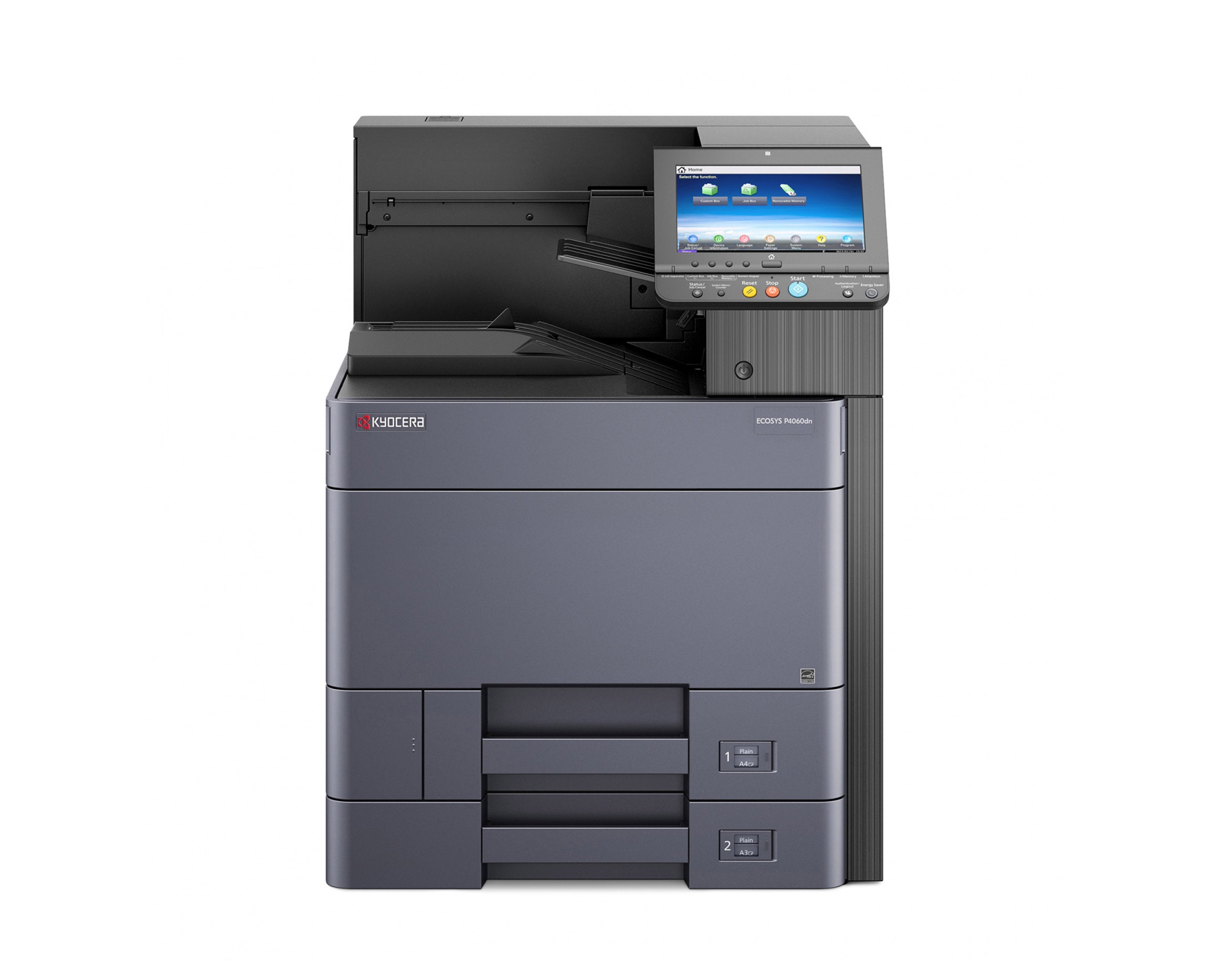 Specifications
Standard Network Print, Scan, Copy & Optional Fax
Maximum Output Size – 12″ x 18″ (Trays) / 12″ x 48″ (MPT)
Print Speed – up to 60 pages per minute
Memory – 4 GB RAM
Hard Drive – 320GB
Std. / Max Paper Capacity 1,150/7,150
Resolution 600 x 600 dpi 1200 x 1200 dpi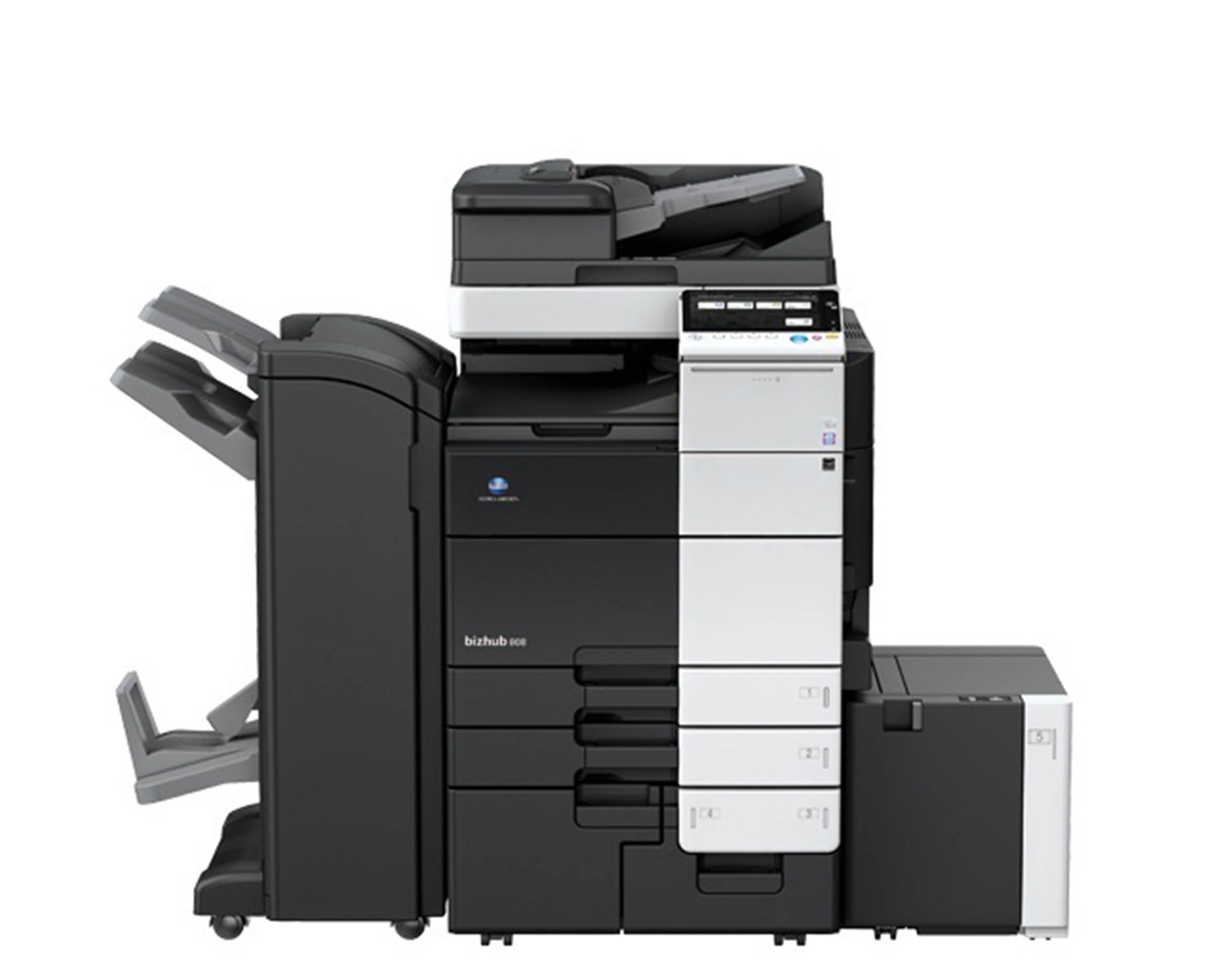 Specifications
Standard Network Print, Scan, Copy & Optional Fax
Maximum Output Size – 12″ x 18″ (Trays) / 12″ x 48″ (MPT)
Print Speed – up to 80 pages per minute
Memory – 4GB RAM
Hard Drive – 250GB 
Std. / Max Paper Capacity 3,650/6,650
Resolution 600 x 600 dpi 1200 x 1200 dpi
Document Feeder 300-sheet DSDP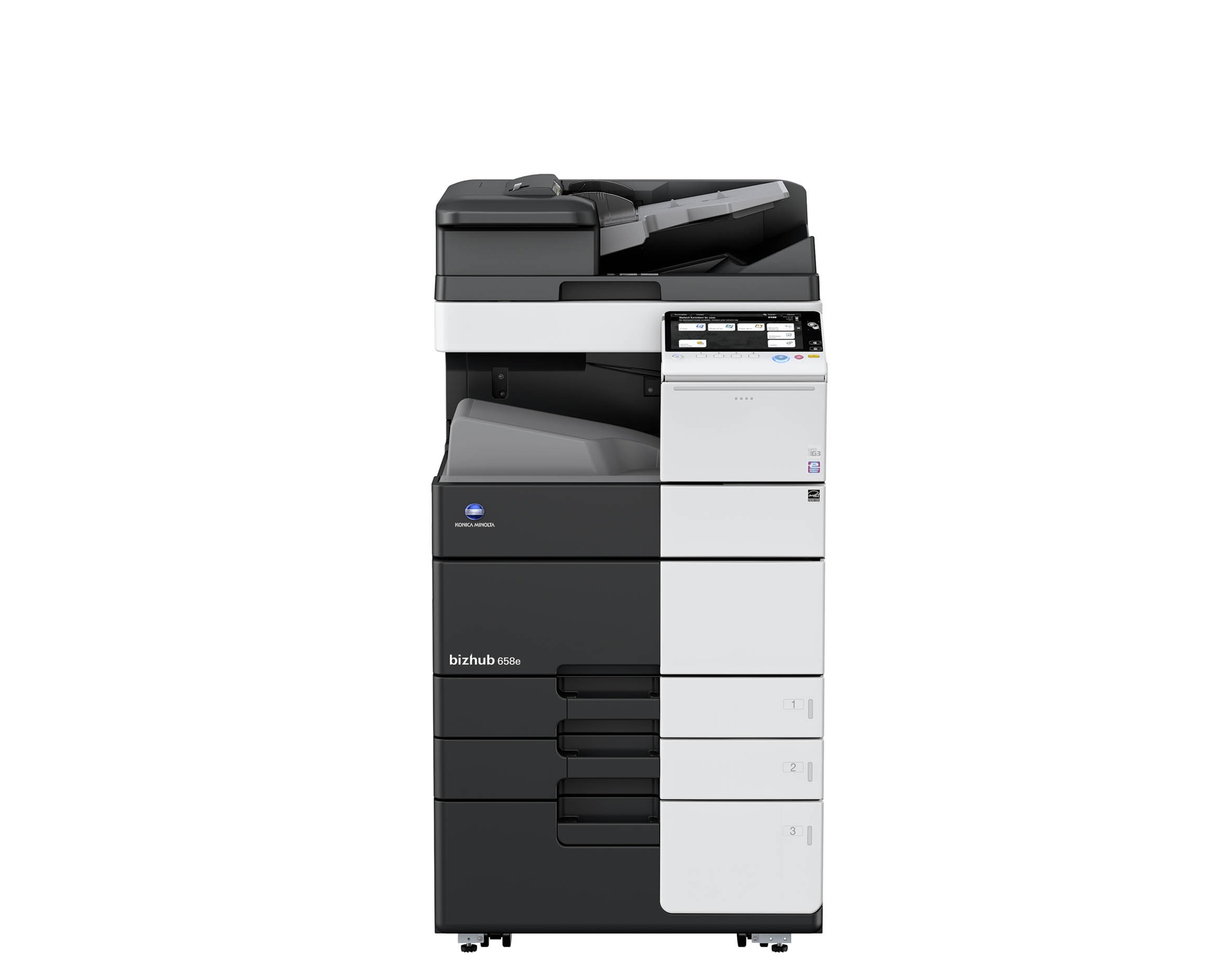 Specifications
Standard Network Print, Scan, Copy & Optional Fax
Maximum Output Size – 12″ x 18″ (Trays) / 12″ x 48″ (MPT)
Print Speed – up to 65 pages per minute
Memory – 4GB RAM
Hard Drive – 250GB 
Std. / Max Paper Capacity 1,150/6,650
Resolution 600 x 600 dpi 1200 x 1200 dpi
Document Feeder 300-sheet DSDP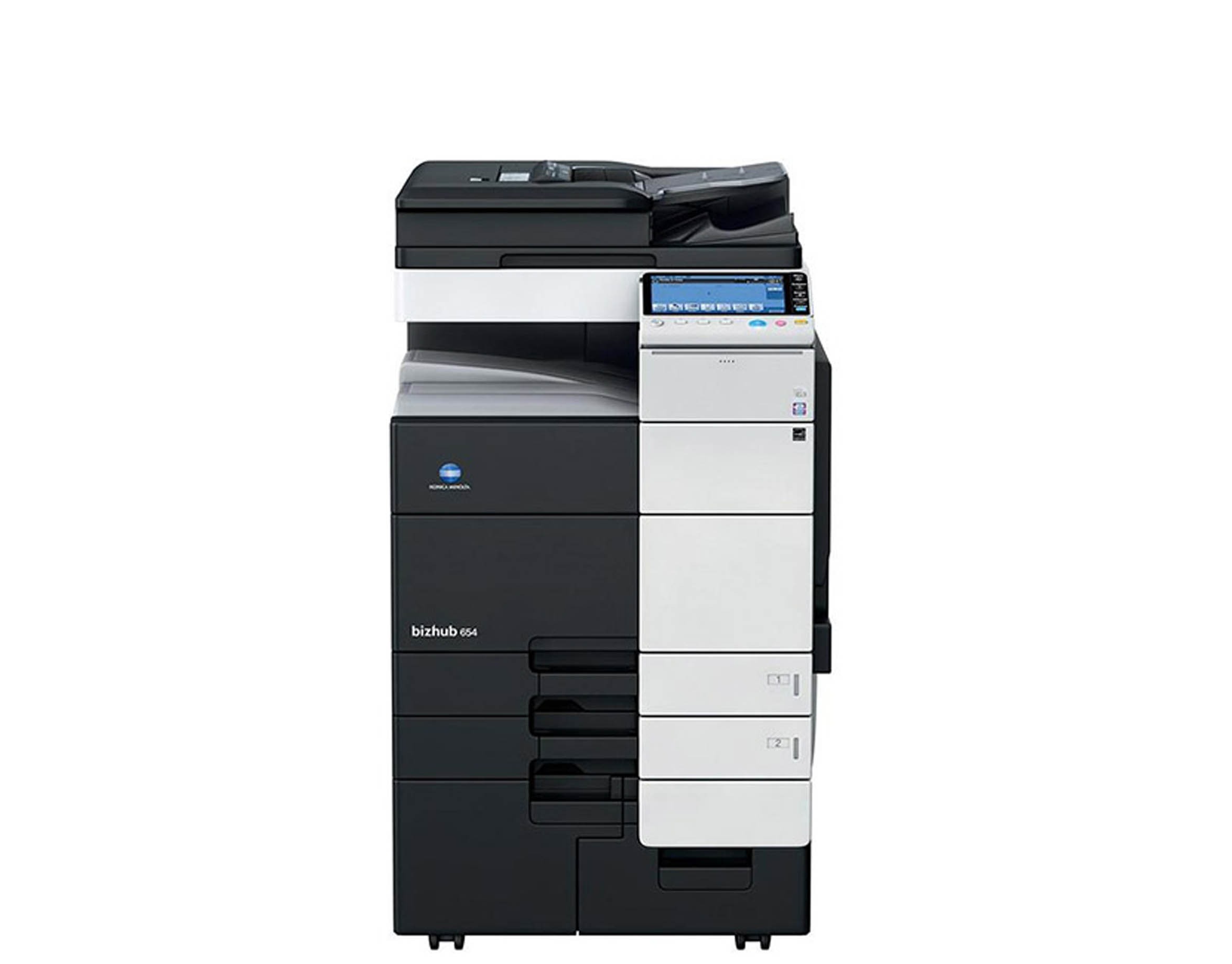 Specifications
Standard Network Print, Scan, Copy & Optional Fax
Maximum Output Size – 12″ x 18″ (Trays) / 12″ x 48″ (MPT)
Print Speed – up to 75 pages per minute
Memory – 2GB/4GB RAM
Hard Drive – 250GB 
Std. / Max Paper Capacity 1,500/6,650
Resolution 600 x 600 dpi 1200 x 1200 dpi
Document Feeder Opt. 140-sheet RADF/270-sheet DSDP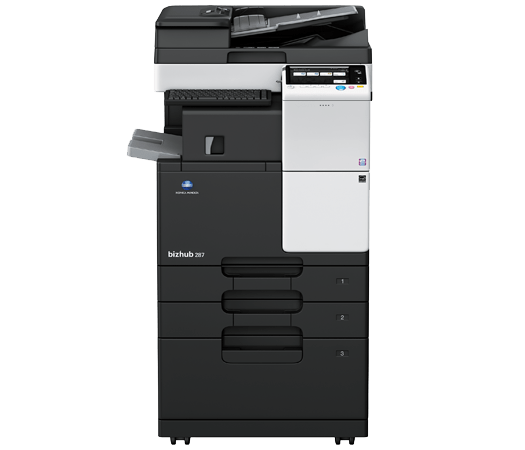 Specifications
Standard Network Print, Scan, Copy & Optional Fax
Maximum Output Size – 12″ x 18″ (Trays) / 12″ x 48″ (MPT)
Print Speed – up to 28 pages per minute
Memory – 4GB RAM
Hard Drive – 250GB 
Std. / Max Paper Capacity 1,150/3,600
Resolution 600 x 600 dpi 1800 x 600 dpI
Document Feeder Opt. 100-sheet RADF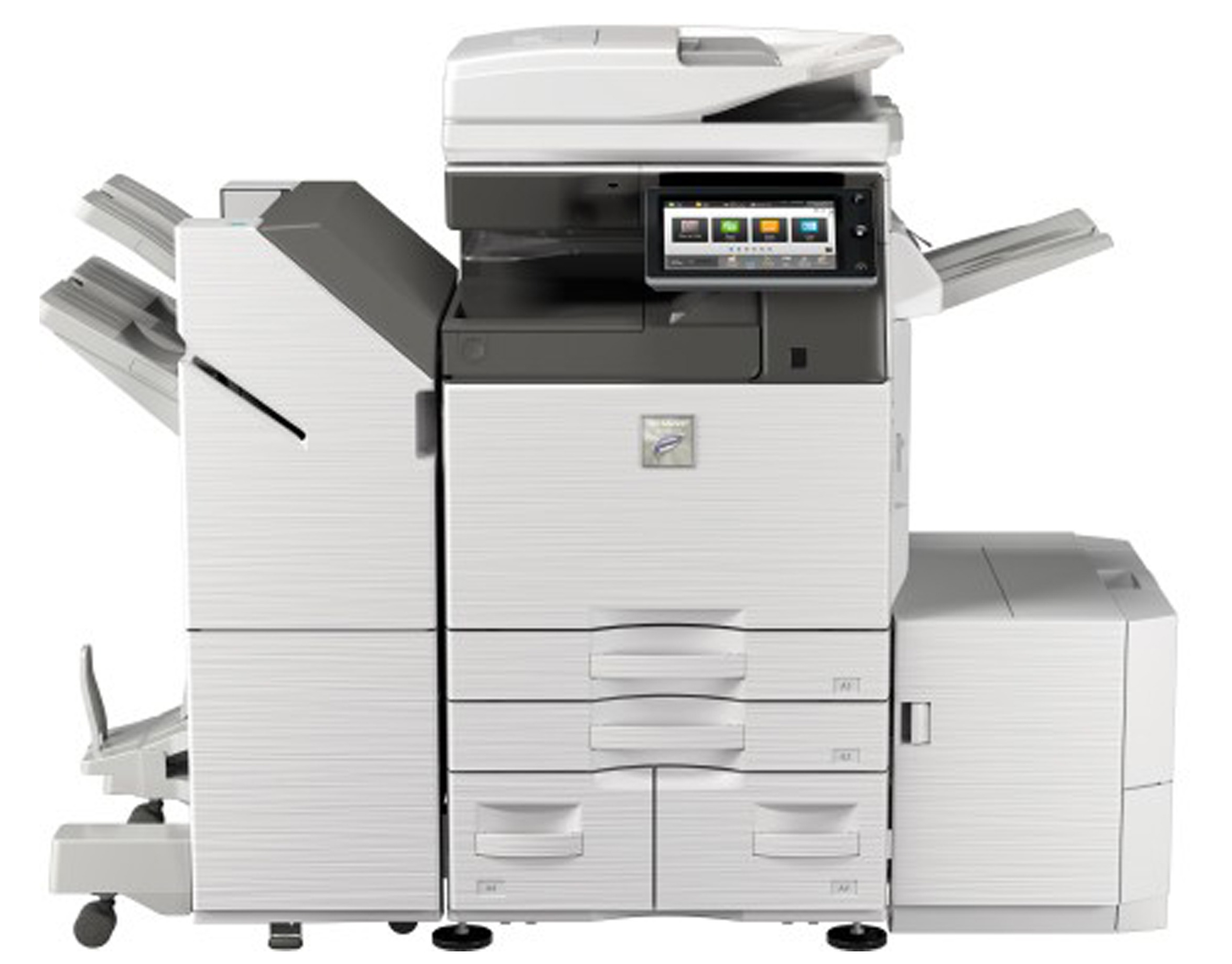 Specifications
50/60 ppm B&W networked digital MFP
150 sheet duplexing single pass document feeder
500 GB hard disk drive
Automatic walk-up motion sensor
Available manual stapling and stapleless stapling
Award-winning customizable touchscreen display with easy-to-view tiles
Built-in retractable keyboard for easy data entry
Leading-edge security with End-of-Lease feature
PCL®6 and Adobe® PostScript® 3™ printing systems
Quad-core multitasking controller
Standard wireless connectivity for easy placement and mobility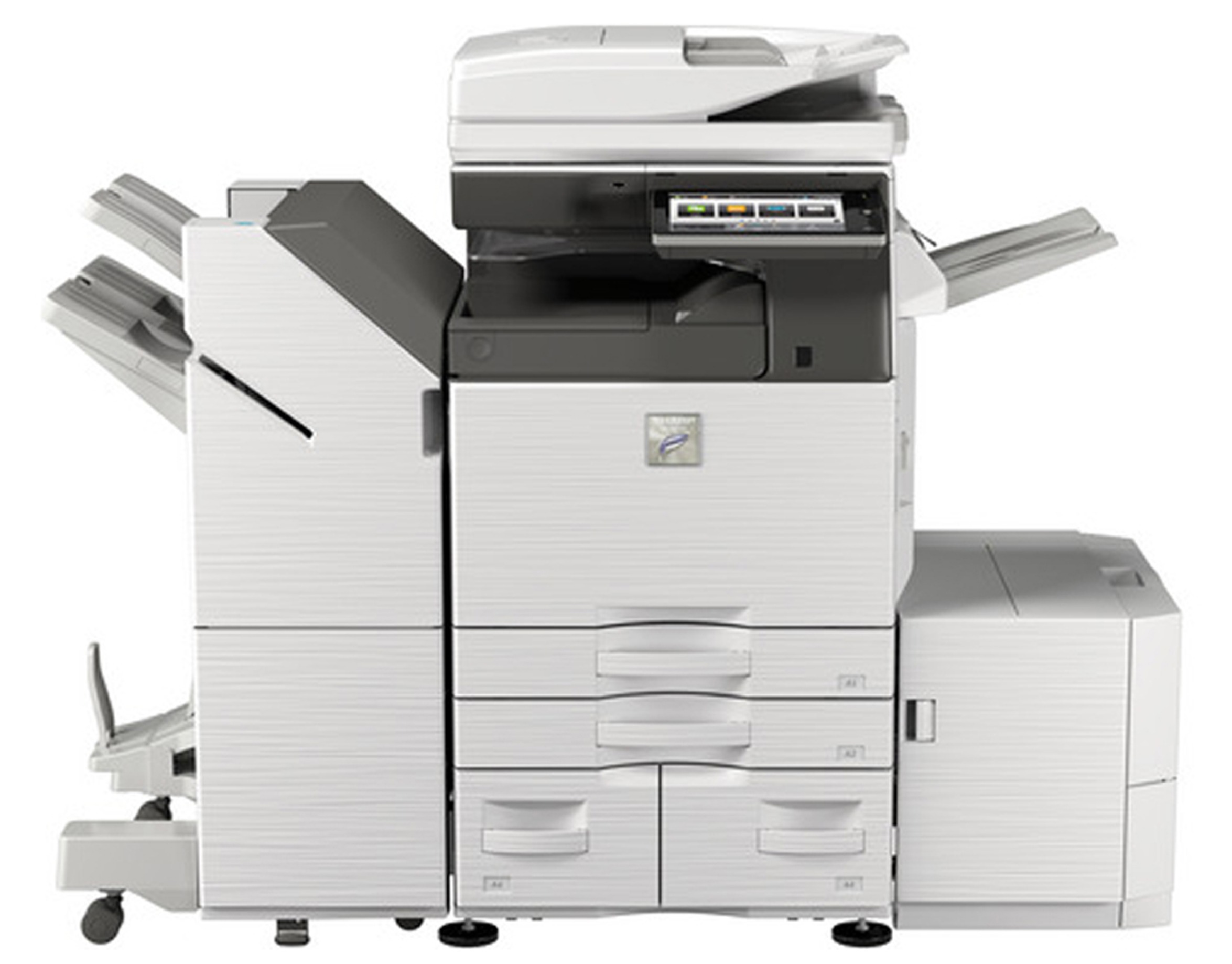 Specifications
50/60 ppm B&W networked digital MFP
150-sheet duplexing single pass document feeder
500 GB hard disk drive
Automatic walk-up motion sensor
Available manual stapling and stapleless stapling
Built-in Optical Character Recognition (OCR) can convert scanned documents to text searchable PDF format, Microsoft Office file formats and others
Built-in retractable keyboard for easy data entry
High resolution, customizable touchscreen display with easy-to-view tiles
PCL®6 and Adobe® PostScript® 3™ printing systems
Quad-core multitasking controller
Standard direct printing of Microsoft® Office file formats
Standard Security with End-of-Lease feature
Standard wireless connectivity for easy placement and mobility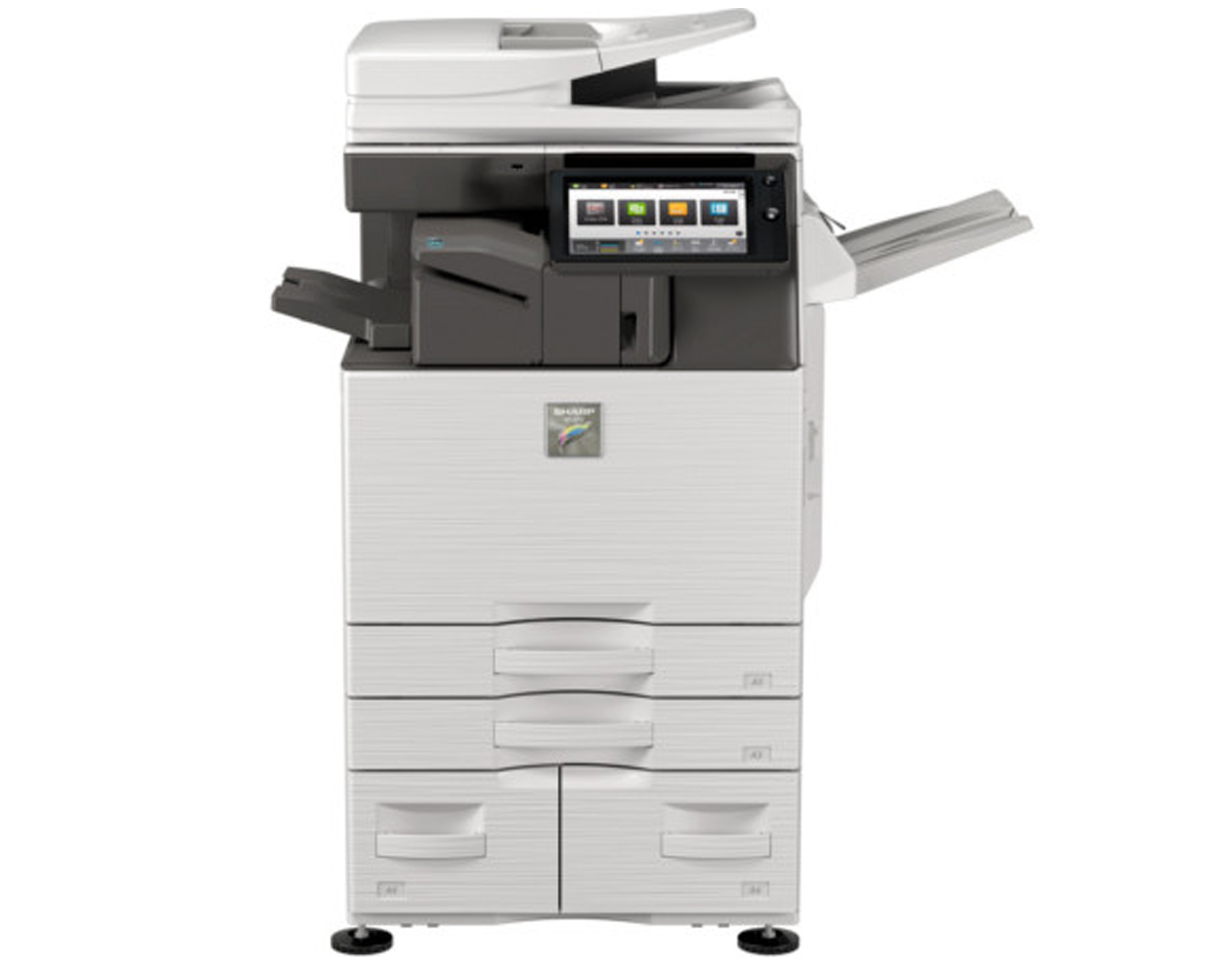 Specifications
50/60 ppm B&W networked digital MFP
100-sheet reversing document feeder
Available manual stapling and stapleless stapling
Award-winning customizable touchscreen display with easy-to-view tiles
Leading-edge security with End-of-Lease feature
Optional PCL®6 and Adobe® PostScript® 3™ printing systems
Optional wireless connectivity for easy access and mobility
Quad-core multitasking controller
Scan and print files easily from mobile devices with Sharpdesk Mobile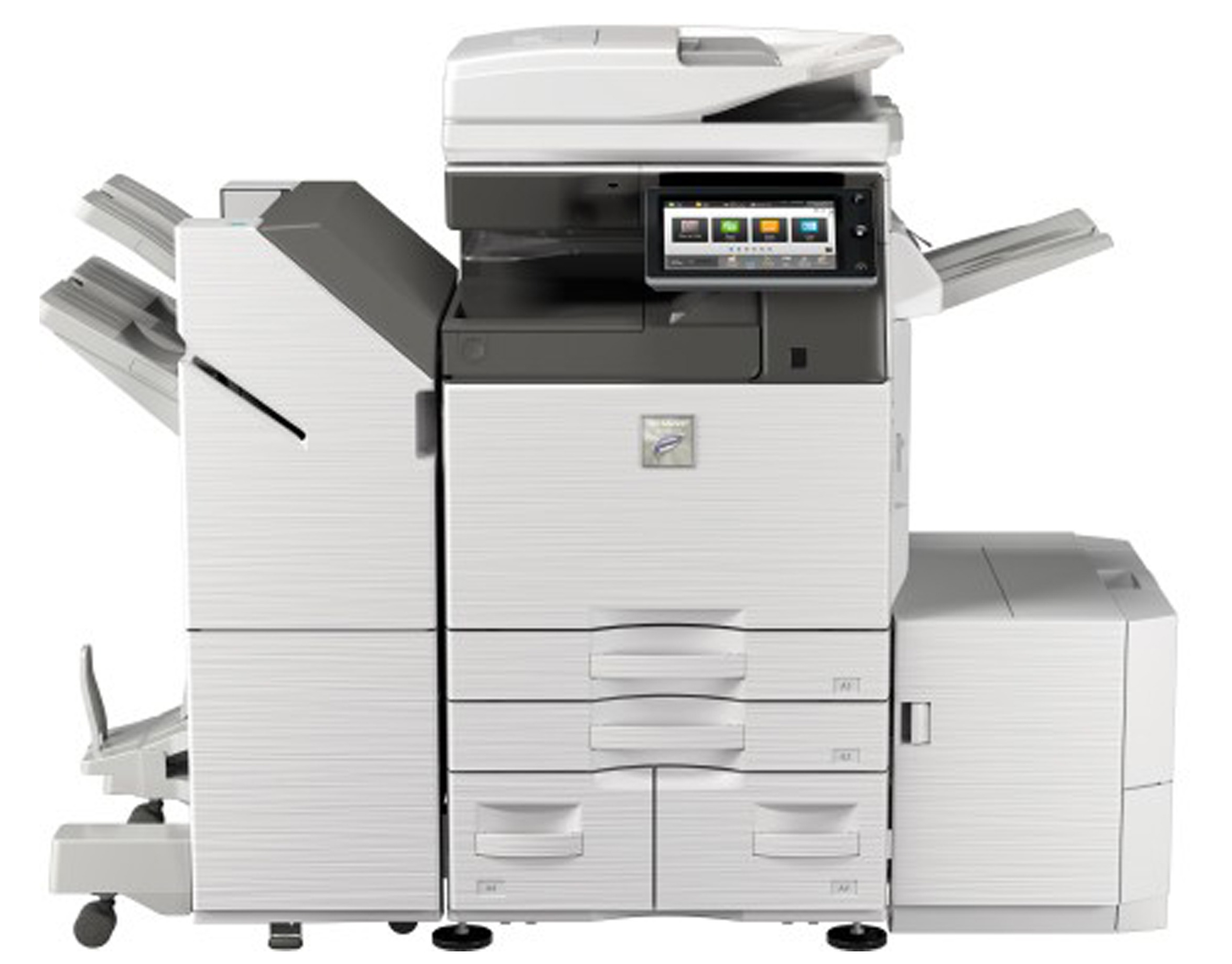 Specifications
50/60 ppm B&W networked digital MFP
100-sheet reversing document feeder
500 GB hard disk drive
Available direct printing of Microsoft® Office file formats
Available manual stapling and stapleless stapling
High resolution, customizable touchscreen display with easy-to-view tiles
Optional wireless connectivity for easy placement and mobility
PCL®6 and available Adobe® PostScript® 3™ printing systems
Scan and print files easily from mobile devices with Sharpdesk Mobile
Standard Security with End-of-Lease feature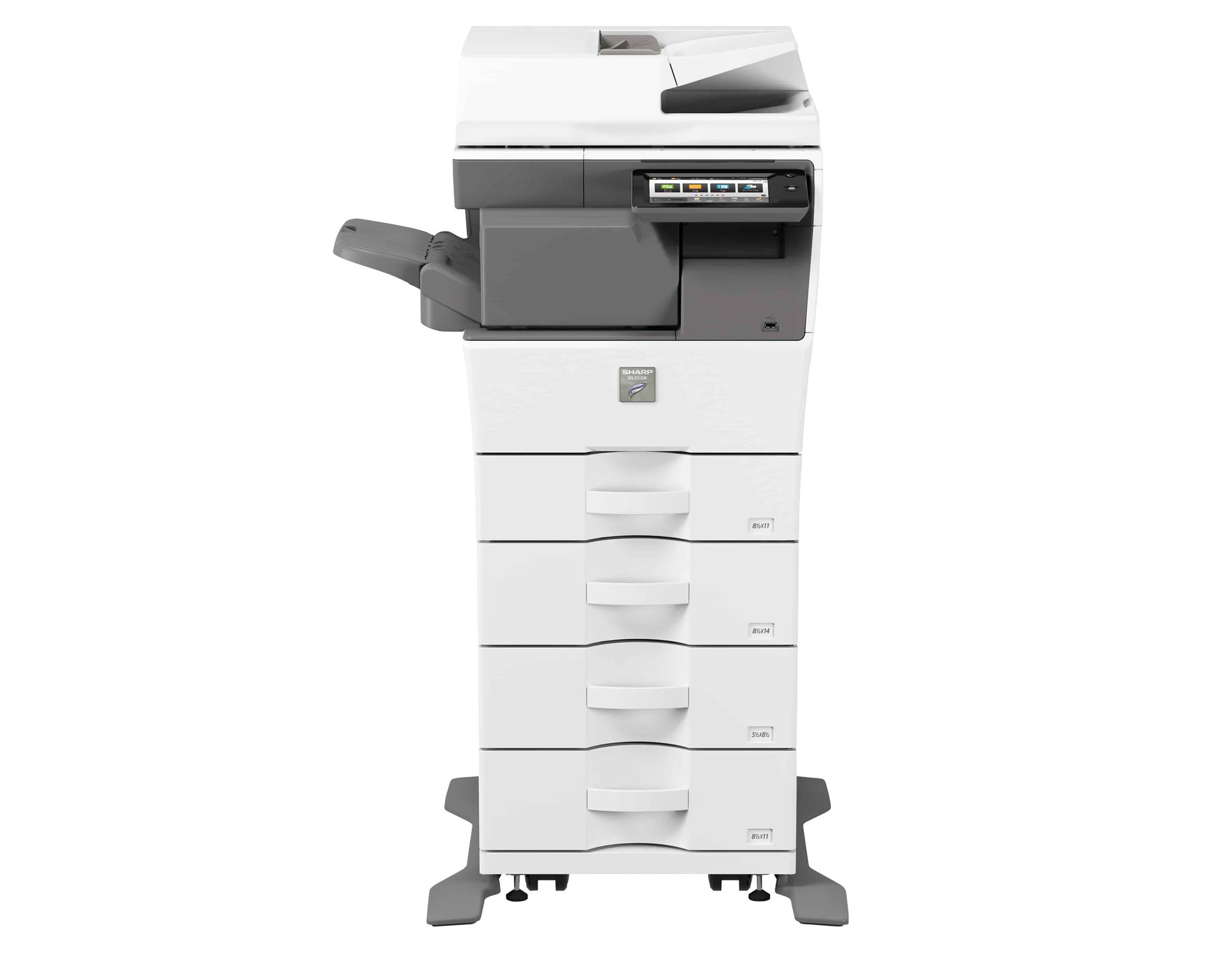 Specifications
37/47 ppm B&W networked digital MFP
100-sheet duplexing single pass document feeder
500 GB hard disk drive
Award-winning customizable touchscreen display with easy-to-view tiles
Built-in Optical Character Recognition (OCR) can convert scanned documents to text searchable PDF format, Microsoft Office file formats and others
Leading-edge security with End-of-Lease feature
PCL®6 and Adobe® PostScript® 3™ printing systems
Scan and print files easily from mobile devices with Sharpdesk Mobile
Standard direct printing of Microsoft® Office file formats
Standard wireless connectivity for easy placement and mobility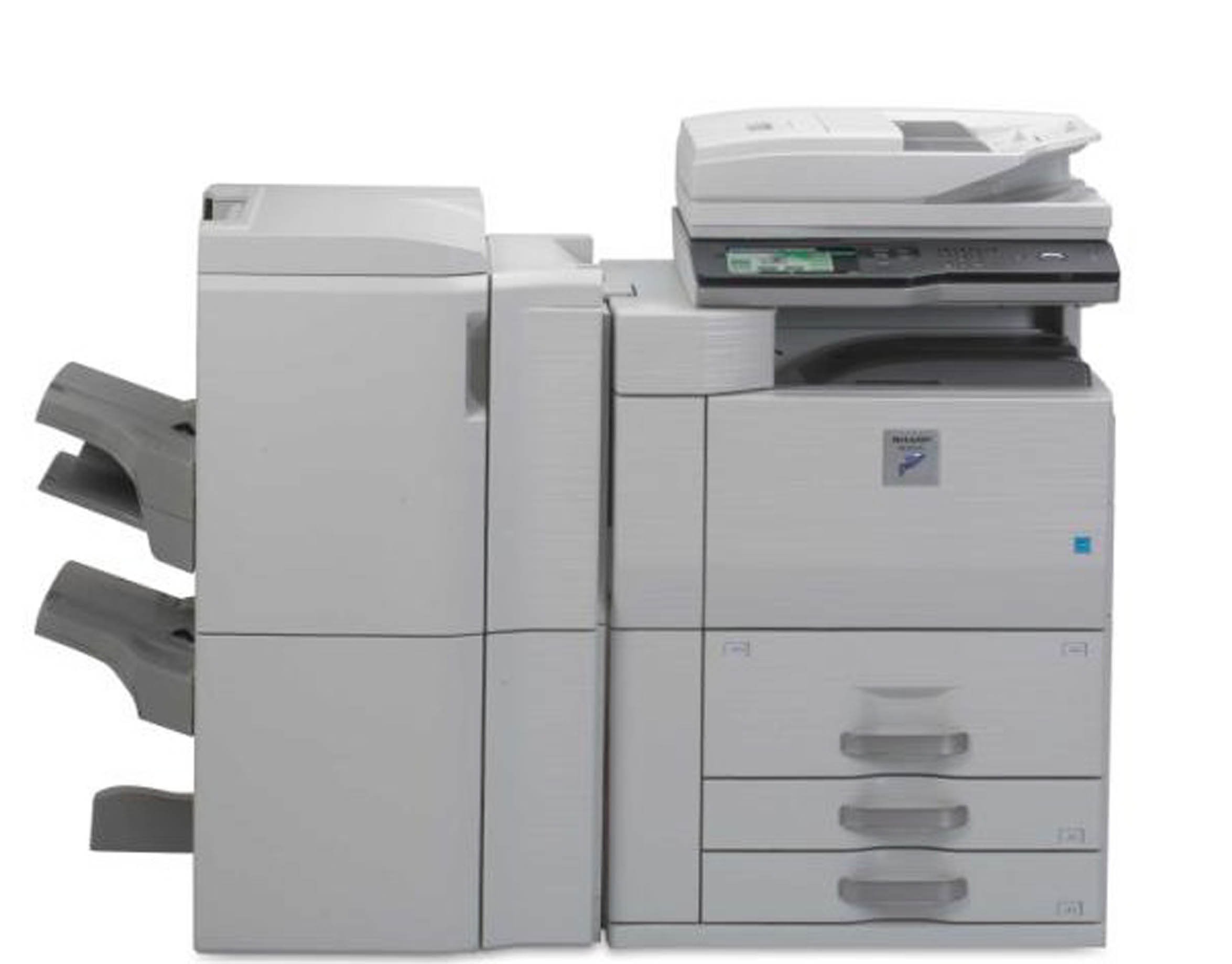 Specifications
Standard Network Print, Scan, Copy & Optional Fax
Maximum Output Size – 12″ x 18″ (Trays) / 12″ x 48″ (MPT)
Print Speed – up to 75 pages per minute
Memory – 1GB RAM
Hard Drive – 80GB 
Std. / Max Paper Capacity 2,000/3,500
Resolution 600 x 600 dpi 1200 x 1200 dpi
Document Feeder 150-sheet DSPF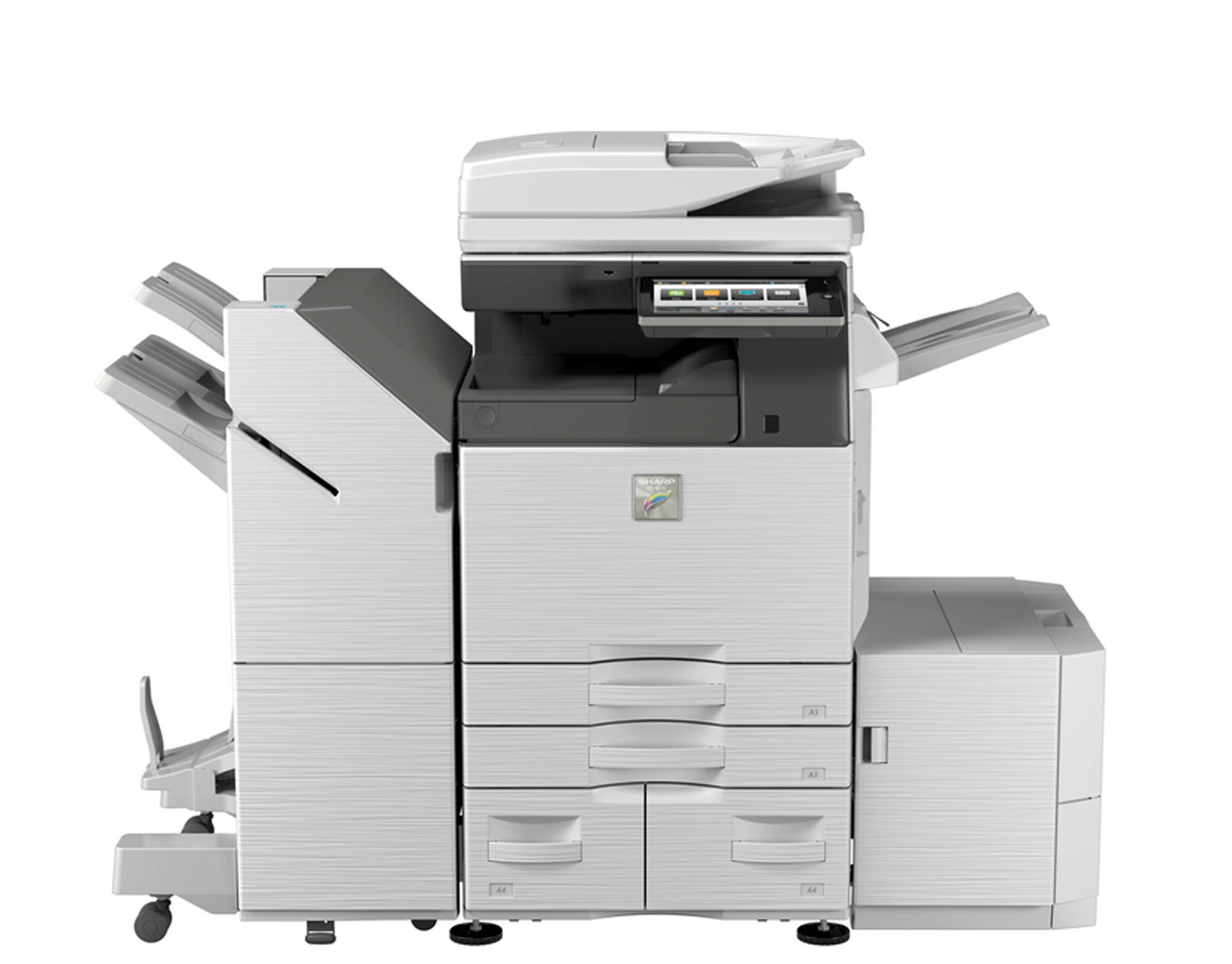 Specifications
Standard Network Print, Scan, Copy & Optional Fax
Maximum Output Size – 12″ x 18″ (Trays) / 12″ x 48″ (MPT)
Print Speed – up to 56 pages per minute
Memory – 3GB RAM
Hard Drive – 320GB 
Std. / Max Paper Capacity 600/6,600
Resolution 600 x 600 dpi 1200 x 1200 dpi
Document Feeder 150-sheet DSPF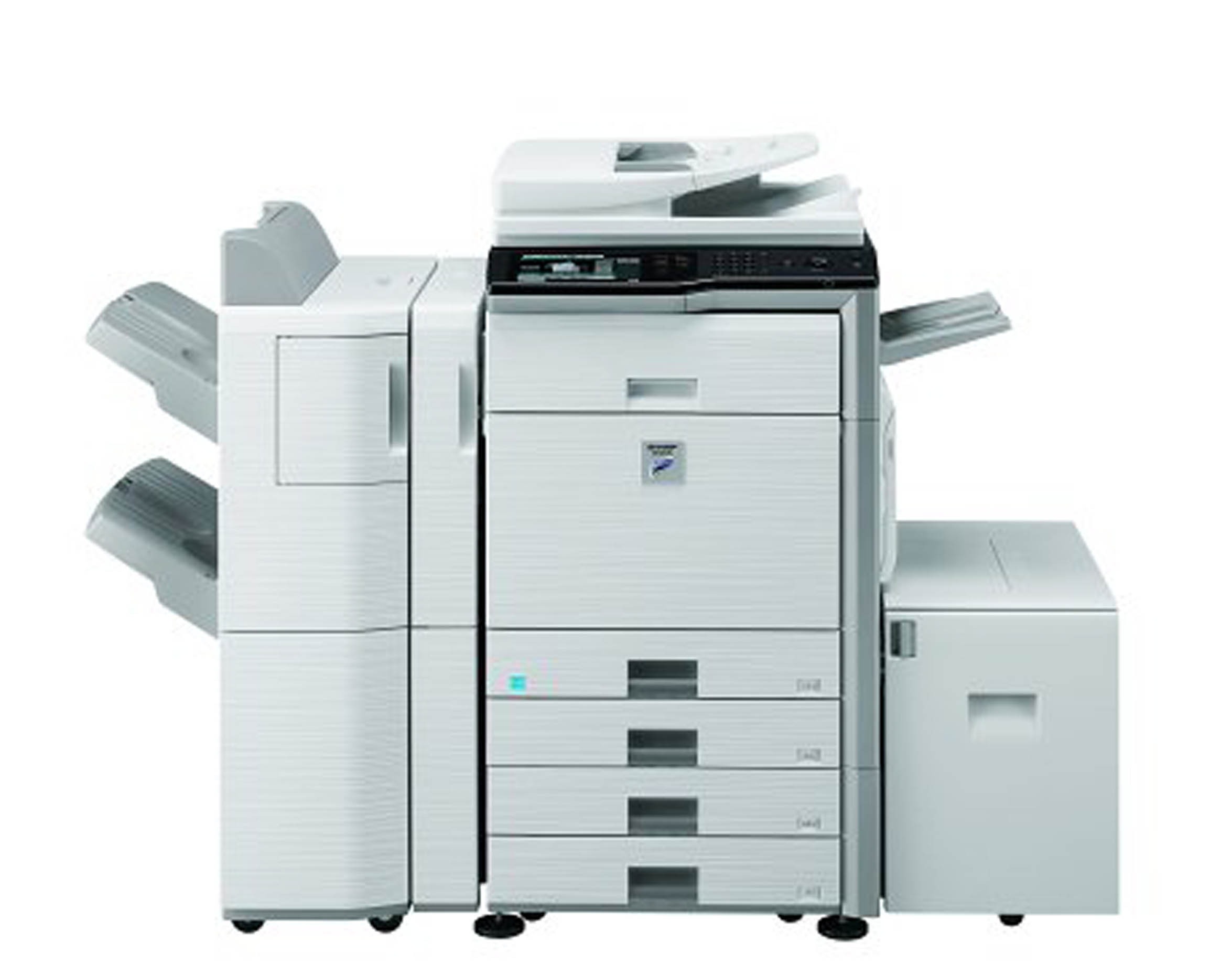 Specifications
Standard Network Print, Scan, Copy & Optional Fax
Maximum Output Size – 12″ x 18″ (Trays) / 12″ x 48″ (MPT)
Print Speed – up to 50 pages per minute
Memory – 1GB RAM
Hard Drive – 80GB 
Std. / Max Paper Capacity 1,100/5,600
Resolution 600 x 600 dpi 1200 x 1200 dpi
Document Feeder 100-sheet DSPF